Norton Triton motorcycles for sale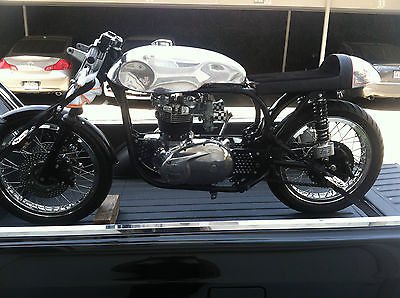 $7,000
Anaheim, California
1957 Norton Wideline Featherbed ( Dominator ) / 1974 Triumph T-140 ( freshly rebuilt ) motor . Powder-coated ( Satin Black ) in random order : Frame/ swingarm , side stand , headlite bucket ( New ) , front / rear fenders , fork sliders , New tripple trees ( Billit aluminum ) , Custom engine mounts , sprocket , rear-sets, Custom speedo mount / anti-vibration mount . New/ polished Akront rims ( FRONT ) 19"-1 85- 40-S-997 E DOT Spain , ( REAR ) 18" -2 15 -40-S- 198 Spain ( NEW S/S spokes ) New AVON Roadrider tires , Lightend / polished Conicle rear hub , New Redwing rear shocks ,New Brimbo front brake lever / hydrolic reservoir ( black ) , New LED brakelite , POLISHED - aluminum petrol tank , oil tank , seat pan hump , rims , conicle hub , ( like new ) 2 sets Amal carbs , New aluminum seat pan : suede/ vinyl cover , Teflon coated sliders ( Custom ) , Dual GP Racing calipers ( Anadized black ) , X-drilled ( Custom ) rotors , DomiRacing anti-vibration Speedometer mount / Custom Speedometer mount ( powder-coated Satin black ) Referbished like new Smiths Chronometric speedometer / with cable ( new ). If buyer needs to have bike shipped , I will help out in any way needed to expedite this transaction. Shipping will be out of pocket expense of buyer. If the buyer is in Southern California , I would be happy to delivery the bike to you .
Trim T140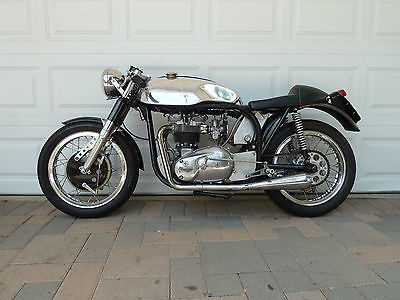 $12,000
Los Angeles, California
what started as a full restoration Norton turned into the mythical beast that is a Triton. Not 1 cent spared in her build and includes Grimeca front 230 brake78 Tiger rebuilt triumph engineall engine braces unityBuchanan wheelsrear brembo brakeTarozzi folding rear setssingle Mikuni carbkicks first start! frame is wideline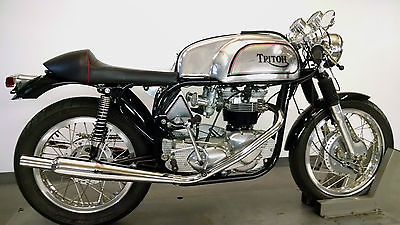 $18,000
Columbia, Missouri
A Brand New 60's Triton. I started with a 1966 Norton Slimline Featherbed frame, stripped it, filled any discrepancy's with brass (nicks, extra holes, etc.,) then polished it, then media blasted, then powdercoated, THEN sanded and Buffed it ! (this attention to detail was carried through the complete build) The motor is a 1968 Bonneville T120R, which I totally stripped, and the Engine cases, Cylinder head and rocker boxes were shipped to Bikesalot in Oregon for Vapour cleaning. I added 750cc cylinders and pistons, so the complete Reciprocating assembly was shipped to Lindscog in Massachusetts for balancing, (which cost $360 including mallory). The motor was then built using all new bearings, seals, valves, springs etc., Front brake is a GT750 4 leading shoe unit, and the forks are Norton Short Roadholders with custom fork seal/gaiter holders that I machined to hold the oil seals in the legs, and also locate the fork gaiters with a tight fit so as not to have to use hose clips (a much tidier finish). I also included a pic of me "jeweling" the motor plates (just something I used to do on the Triton's and Tribsa's that I used to build in the 60's)Pretty much everything on the bike is brand new. It starts first kick, and is fun to ride. Bike is actually Titled as 1966 Triton and is free and clear. Call norm @ (573)445-8827 with any questions. Prefer bike to be collected from my shop (in Columbia MO, on Interstate 70, halfway between St Louis and Kansas City) or buyer arranges shipping.$500 deposit, (via PayPal) is required within 48 hours, and balance is required within 7 days.I have plenty of inside storage, so bike does not have to be collected straight away, but must be paid for within 7 days.