Vincent motorcycles for sale
$100,000
Cripple Creek, Colorado
Category Sport Motorcycles
Engine 1000
Posted Over 1 Month
This is an outstanding example of the legendary Vincent Black Shadow. These bikes are always included in the top 3 , iconic British classics. This bike has all correct serial numbers ( F10AB/1B/4257: engine and RC6157B: frame). Frame numbers are in two locations; and MUST match. Note also that the engine and frame numbers MUST be 1900 difference---otherwise it' a "composite" rebuild (or fake). Major casting numbers MUST match as well. This bike is GG35 (see photos). Bike has original, correct carbs series 289--including the front brass carb (Vincent only). Ignition is via ultra rare KVFTT, manual advance, unit; driving an ultra rare RC 115 tach (with YELLOW GRAPHICS)-- as on BLACK LIGHTNING race bikes (only 33 made). Bike has modern Alton 12v alternator* and modern V3 multiplate clutch* Modern centerstand. Has special breather system (totally effective). It is now tucked away so as to be less visible (as in photos)). --- not so "busy" looking. ( as one well-known reviewer mentioned). Current seat is a bit off stock; but a correct one is now being recovered . If you know Vincents you know what I mean. Original Tool Kit is present; but just a few tools missing; as is usual. Also fitted is a special OIL SYSTEM (don't trust original one). It has (1): Green LED light indicator for ON/OFF; and (2) an electrical INTERLOCK to prevent starting if oil is off (essentially a magneto "kill circuit". In fact I use it to shut off the bike; rather than the handle-bar kill button The original carbs are in near new condition; so I have always run with them. Bike has approx. 650 miles since rebuild. Bike has been VERIFIED AUTHENTIC by VINCENT OWNERS CLUB: (1) factory build sheet (2) factory test sheet: (3) import documents. It is "the real deal". Several hundred spares included. *Original KVF mag (like new); and modern BTH electronic mag included * Original Miller 6v generator included. *Front "cowls (mag covers) included So; bike could be converted back to Concourse Condition if desired (+ a bit of extra mods to your taste). Serious bidders know what Black Shadows have sold for recently at Major Auctions, recently---so bid according. I will consider "reasonable offers", naturally! In all honesty I feel it comparable to Shadows recently sold--you are the judge . For addition info please contact me at 719-748-3011 (Mountain Time Zone USA); or dock1yard@gmail.com.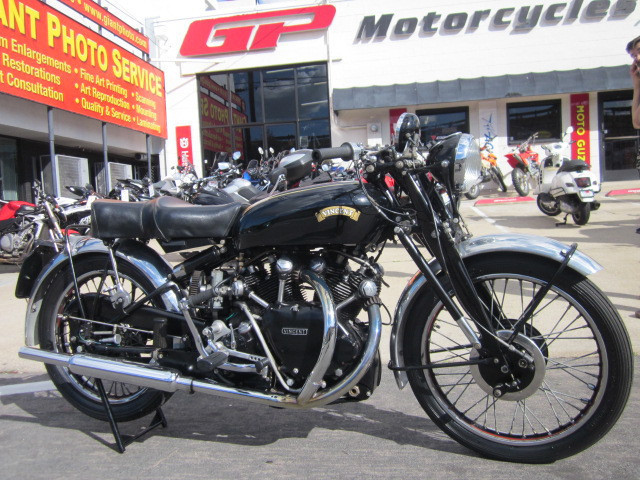 $100,000
San Diego, California
Category Classic Motorcycles
Engine -
Posted Over 1 Month
Extremely rare British Icon, great condition. The classic English superbike known as the Vincent Black Shadow. More than 50 years after the last one rolled off the line, the Black Shadow is still an incredible piece of mechanics and design and Jay Leno's favorite motorcycle. Financing (see our online credit application), credit cards, trade ins and consignments all welcome and available at GP Motorcycles - Ducati of San Diego - San Diego's ALL European Motorcycle Dealership, Ducati, Aprilia, MV Agusta, Husqvarna, Moto Guzzi, KTM, Norton, 3617 India Street Ste. B, San Diego, CA 92103, 877-351-7060,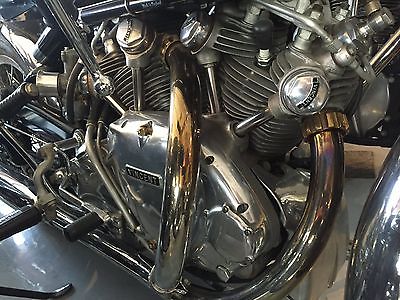 $85,000
Medina, Ohio
Vincent Rapide restored It is not the correct year or mileage. Will list particulars very soon. Call for details. 330-241-1680 Have Norton's, BSA's, Triumph's, Vincent Comet, Velocette's, Ducati's, Moto Guzzi's, Carabela, etc.