Cushman Super Silver Eagle motorcycles for sale
$6,500
Citra, Florida
Category -
Engine -
Posted Over 1 Month
This is the most desirable Cushman with 9 hp and overhead valves, electric start fresh restoration perfect condition over 60 mph $6500. For a great selection of classic vintage motorcycles and scooters. Please call Terry at 855-264-6790 for more information.
$7,000
Longwood, Florida
Category -
Engine -
Posted Over 1 Month
Up for sale is my very collectible 1962 Cushman Super Silver Eagle Shriner bike. This is a factory built Shriner Cushman, it has the desirable 9HP OMC motor, both electric and kick start. It has just about every option you can have - hard saddle bags, windshield, crash bar, buddy seat, turn signals, two speed trans with foot clutch, and suicide shifter. The bike is in extremely nice shape, starts and runs perfect. Turn signals and lights all work as they should, horn and speedometer not working. I have a clear Florida title in my name and have owned this bike for many years and have really enjoyed it. I've decided to sell off some of my bikes now, the Shriner bikes don't come on the market too often so here's a chance to own one of the Cushman's most sought after bikes on the market today. This would make a perfect Christmas gift for the Cushman enthusiast in your life! Available for local pick-up or I can work with your shipper for pick-up, but shipping is not included and shipping arrangements are buyer's responsibility.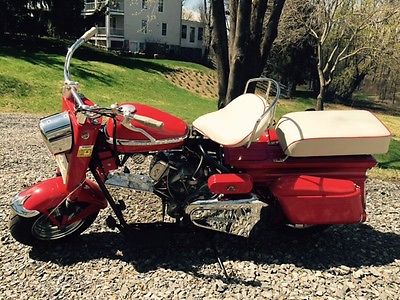 $6,995
Germantown, New York
Category Scooters
Engine -
Posted Over 1 Month
I have poured countless hours and dollars into this meticulous restoration of the most powerful (9HP) Cushman Eagle Scooter ever produced. Every single park was either restored or replaced with an Dennis Carpenter original tooling reproduction part. The only deviation from originality I made the complete chroming of the engine. This alone was $1500 investment but completely transforms the look of the bike. I have only put 50 miles on the 100% restoration of the engine and transmission. I have over $12,000 into the bike, but it was more of a labor of love, not ever excepting to get every dollar out of it. They buy it now is a firm price so please no low ball offers. The scooter starts via it's electric starter each and every-time. Rides like a dream, the pictures say the rest. This was an original Shriner bike as indicated by a mid 60s Shriner pin which was lodged between the engine mounts and frame (pin comes with bike).