Norton Commando 850 Roadster motorcycles for sale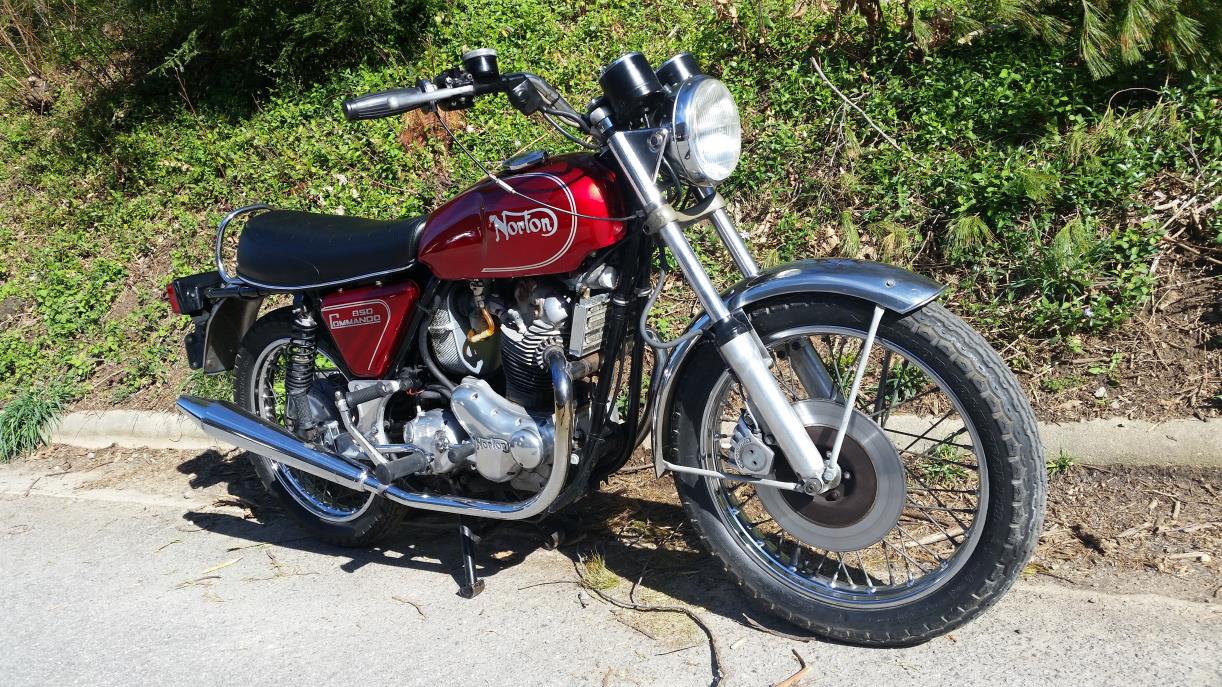 $6,499
Asheville, North Carolina
Category -
Engine -
Posted Over 1 Month
1974 Norton Commando 850 Roadster, This gorgeous and iconic bike is in overall excellent condition and everything works and functions as it should. Easy to start if primed properly. There is no compression release however with a little finesse, you should have no problems starting it. (I am a 120 lb young lady and have no problems starting it). It is free of blemishes, scratches, dents, etc.As with any old bike, it needs regular riding and up keep to remain in this condition! It comes with the original riders, manual, owners manual, sales brochure, a plethora of extra parts, and a CLEAN title.*MORE & BETTER QUALITY PHOTOS COMING SOON!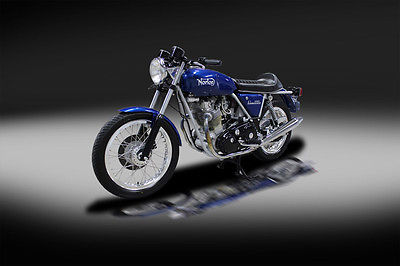 $17,900
Seekonk, Massachusetts
Category -
Engine 828
Posted Over 1 Month
You're looking at another beautiful classic motorcycle listed by MS CLASSIC CARS!1973 Norton Commando 850 Roadster Custom -- $17,900.00IntroductionHello, I'm Marc Schiliro the owner of MS CLASSIC CARS. You might recognize my name or my business name from beautiful classic cars and trucks I've collected and sold nationally. I've got over 16 years of classic car and truck experience. I'd like to put that experience to work for you. I've learned a lot and I'm educated with many different makes and models ranging from the early 1900's to current. Over the years I've collected and sold over 300 classic cars and trucks. I sell a large percentage of my inventory from networking and from the various websites I advertise on. I sell a small percentage of my inventory at various auctions such as Barrett Jackson. I've set a few sales records and have had many vehicles sell in the top 25 highest sale priced vehicles at multiple Barrett Jackson auctions. Barrett Jackson offered a group of my cars as "The Marc Schiliro Collection" at the Palm Beach, FL auction in 2012. For this auction Speed TV came to my showroom while it was under construction for an interview which was later aired during the Barrett Jackson Palm Beach, FL auction on Speed TV with millions of viewers watching. I've also featured many classic cars and trucks at multiple different auctions across the United States. I've had many vehicles that have been featured in multiple magazines and multiple websites. I specialize in beautiful classic cars and trucks that are at a higher level of quality than most being advertised for sale. I collect classic cars and trucks that are already completed and slightly redesign them, service them and detail them. I have also coordinated restorations from start to finish. The MS CLASSIC CARS showroom and automotive detail center in Seekonk, Massachusetts was established in 2012. I also acquired a service and storage facility in 2015. The MS CLASSIC CARS operations are closed to the public. A private viewing of a vehicle or an automotive detail can be made scheduled by appointment Monday through Friday. The MS CLASSIC CARS inventory consists of roughly 25 classic cars and trucks that we own, service and detail. Each vehicle is presented with detailed descriptions and multiple photos. We own all the inventory and don't offer consignments. When you call you deal directly with me. I know each vehicle well and will go over the vehicle of your interest in full detail. I'll also assist you with any other needs such as trades, financing, insurance or shipping. I promise to make the process from start to finish easy and enjoyable. I take a lot of pride in my business and my reputation reflects that. I appreciate the opportunity to earn your business! MarketI've been collecting classic cars and trucks for over 15 years now and have seen a lot happen. I've seen the hobby continue to grow not only on the internet and auctions but also with the amount of television shows, magazines and websites that are related to classic cars in some form or another. I strongly believe the classic car market is a great place to invest in. When the economy is strong, the classic car market is extremely strong. When the economy isn't so strong the classic car market holds its own. I've sold classic cars and trucks in both economic conditions. The reason classic cars make such a great investment is because people are crazy about cars, especially classic cars. These people aren't just one age group but all different ages ranging from very young to very old. It's a much diversified market. I've learned it's not just people in the United States but its people all over the world. Roughly 20% of my sales are from people who live outside of the United States. Some examples would be Canada, Australia, Mexico and Europe. Also from what I've learned roughly 20% of bidders at auctions are also people who live outside the United States. Over the years I've noticed that the higher quality classic cars have always commanded a higher price. Even people who don't have any classic car experience can recognize and appreciate attention to detail. Over the last 10 years the overall market has been very strong and I believe it will continue to grow. Certain classic cars prices are on the rise and others are on the decline. It's all about supply and demand not about a good or bad economy. The classic cars that are on the rise are the cars that a lot of people want but there aren't many on the market for sale. The classic cars that are on the decline are the cars that a lot of people don't want anymore and there's many on the market for sale. Of course, if the car is a rare model and spectacular it will command a higher price as I mentioned. Desirable factory correct classic cars that are documented with matching numbers always make solid investments. Custom cars have remained strong because each car is different from the next one. They each have their own character and there worth what people are willing to pay. Prior to this business I was just a blue collar guy who was working full time selling new and used Mercedes Benz. I was very passionate about classic cars and trucks so I decided to sell them part time. Although I had my used car dealer's license I didn't have my own dealership. Overall things were going just fine but my dream was to open my own classic car and truck dealership. I decided to give up my full time job with health insurance and a 401K to open a new classic and truck dealership. I had to invest a ton of money to make that happen which required using my family's savings and acquiring loans such as a home equity line of credit. I also now would have a lot of overhead that I didn't have before. The bottom line is I went all in. Do you think I would've done all that if I didn't think the classic car and truck market wasn't going to remain strong? "I'm putting my money where my mouth is". Marc Schiliro – The Owner Description 1973 Norton Commando 850 Roadster Custom ONE-OF-A-KIND! ABSOLUTELY STUNNING! EARLY PRODUCTION DATE OF APRIL 1973. REFERRED TO AS THE "FIRST 850"! OWNED BY THE LAST OWNER FOR ALMOST 30 YEARS WHICH IS DOCUMENTED! VERY ORIGINAL PRIOR TO EXTENSIVE NUT AND BOLT RESTORATION! PHOTOS OF THE RESTORATION ARE INCLUDED! COMPLETED IN 2016 WITH ONLY 58 TEST MILES! EVERYTHING HAS BEEN RESTORED OR REPLACED! NEW OEM PARTS WERE USED WHEN AVAILABLE! BEAUTIFUL SHOW QUALITY FORD BLUE LIGHTNING PAINT! CUSTOM CORBIN CAFÉ BLACK SEAT! INSTRUMENTS WERE RESTORED TO FACTORY SPECS! EXCEL HIGH SHOULDERED ALUMINUM RIMS AND BUCHANAN SPOKES! BRIDGESTONE BATTLAX BT45F TIRES! THE CHASSIS WAS STRIPPED AND POWDER COATED WITH A LIGHT GRAY FINISH! THE ENGINE AND TRANSMISSION SIDE COVERS ALONG WITH THE Z PLATES AND LOWER FRONT LEGS WERE ALSO POWDER COATED! THE ENGINE WAS COMPLETELY REBUILT INCLUDING BEING BORED .020 OVER, VALVE JOB, ETC. EVERYTHING WAS DONE TO FACTORY SPECS! TWO NEW AMAL 932 CARBURETORS WITH K&N FILTER! THE TRANSMISSION WAS DISASSEMBLED, INSPECTED, REASSEMBLED AND RESEALED! ALL NEW CABLES AND LINES! ALL NEW WIRING! ALL NEW LIGHTS! ALL NEW SUSPENSION COMPONENTS! ALL NEW BRAKING COMPONENTS! ALL OF THE HARDWARE WENT TO THE CADMIUM PLATER! ALL OF THE CHROME PIECES WENT TO THE CHROME PLATER! EVERYTHING IS IN GREAT WORKING ORDER! MS CLASSIC CARS COMPLETELY DETAILED THIS NORTON FROM TOP TO BOTTOM! THIS IS A GREAT OPPORTUNITY TO PURCHASE A CLASSIC MOTORCYCLE THAT HAS BEEN FULLY RESTORED! STORY: I RECENTLY PURCHASED THIS 1973 NORTON COMMANDO 850 FROM A GENTLEMAN WHO NAMED TRACY WHO LIVES IN FLORIDA. TRACY IS THE ONE WHO COMPLETED THE ENTIRE RESTORATION. HE HAS A LOT OF EXPERIENCE RESTORING CLASSIC MOTORCYCLES. I HAD PURCHASED A 1952 FORD F1 PICKUP CUSTOM LS FROM HIM A FEW MONTHS AGO. HE HAD COMPLETED A FRAME OFF RESTORATION ON THE TRUCK AND DID A BEAUTIFUL JOB. WE GAVE THE TRUCK THE MS CLASSIC CARS TOUCH AND SOLD IT ALMOST IMMEDIATELY. DURING THE TIME WE WERE DOING THE DEAL ON THE 1952 FORD F1 HE MENTIONED HE WAS RESTORING A 1973 NORTON COMMANDO 850. OF COURSE, I WAS VERY INTERESTED. I DON'T DO A LOT WITH CLASSIC MOTORCYCLES BUT HAVE COLLECTED A FEW REALLY NICE ONES OVER THE YEARS. I HAVE A PASSION FOR MOTORCYCLES AS I GREW UP RACING MOTORCROSS. I ALSO HAVE MY MOTORCYCLE LICENSE. I KNOW A BEAUTIFULLY RESTORED MOTORCYCLE WHEN I SEE ONE. I TOLD HIM WHEN THE NORTON RESTORATION WAS COMPLETED AND HE SHOOK IT DOWN I WANTED FIRST RIGHT OF REFUSAL. ONCE IT WAS COMPLETED HE EMAILED ME THE PHOTOS AND I WAS AMAZED AT THE OVERALL RESTORATION. I HAD TO HAVE IT! HE PURCHASED THIS NORTON FROM A GENTLEMAN IN FLORIDA WHO OWNED IT SINCE 1989. THIS IS DOCUMENTED ON THE FLORIDA TITLE. THE BIKE WAS VERY ORIGINAL WITH LOW MILEAGE. IT NEEDED A TOTAL RESTORATION. THE EXTERIOR COLOR WAS BLACK. IT'S BELIEVED TO HAVE THE ORIGINAL ENGINE. TRACY SAID, "THERE'S NO DOUBT IT WAS NEVER TAKEN APART PRIOR TO THE RESTORATION". THE SERIAL NUMBERS ARE LISTED BELOW. TRACY WANTED TO RESTORE THIS NORTON WITH SOME CUSTOM TOUCHES SO IT WOULD BE A ONE-OF-A-KIND. HE DOCUMENTED THE ENTIRE RESTORATION WITH PHOTOS THAT ARE INCLUDED WITH THE SALE. TRACY RECENTLY COMPLETED THE RESTORATION AND DROVE IT 58 MILES SINCE COMPLETION. TRY TO IMAGINE HOW MUCH IT WOULD COST FOR YOU TO FIND A 1973 NORTON COMMANDO 850 IN ORIGINAL CONDITION AND COMPLETE AN ENTIRE RESTORATION WITH PARTS AND LABOR. I'LL TELL YOU IT WOULD BE A LOT MORE EXPENSIVE THEN THE ASKING PRICE! INSPECTION REPORT RED PLATE ON HEADSTOCK VIN #301733 WITH BUILD DATE OF 4 / 73. DRIVERS SIDE OF TOP FRAME HAS THESE NUMBERS #00113 ENGINE NUMBER #305134 AS THE RESTORATION PHOTOS DOCUMENT THIS 1973 NORTON COMMANDO 850 ROADSTER CUSTOM MOTORCYCLE WAS A TRUE NUT AND BOLT RESTORATION. THERE'S NOT A LOT I CAN SAY THAT WON'T BE VERY CLEAR IN THE PHOTOS BELOW. THE BODYWORK ON THE FENDERS, TANK AND SIDE PIECES IS VERY STRAIGHT. THE QUALITY OF THE FORD BLUE LIGHTNING PAINT IS AMAZING AND VIRTUALLY FLAWLESS. A COPY OF THE PAINT CODES AND TOUCH UP PAINT IS INCLUDED WITH THE SALE. THE PAINT ON THIS BIKE IS SHOW QUALITY. ALL OF THE DECALS WERE CLEAR COATED OVER AND YOU CAN BARELY FEEL THEM. A CUSTOM CORBIN CAFÉ STYLE BLACK SEAT WAS ADDED. BOTH WHEELS WERE UNLACED, HUBS WERE POLISHED AND THEY WERE ASSEMBLED WITH EXCEL HIGH SHOULDER ALUMINUM RIMS AND BUCHANAN SPOKES. IT HAS NEW BRIDGESTONE BT45F TIRES THAT ARE 100-90-19 ON THE FRONT AND 120-90-18 ON THE REAR. ALL OF THE CHROME AND BOLTS WERE SENT OUT TO BE RESTORED. ALL OF THE WIRING, LINES, CABLES, LIGHTS, RUBBERS, ETC IS NEW. THE FRAME WAS COMPLETELY POWDER COATED AND COMPLIMENTS THE BLUE COLOR PERFECTLY. THE ENGINE WAS COMPLETELY REBUILT AND RUNS GREAT. IT HAS TWO NEW AMAL CARBURETORS. IT ALSO SOUNDS GREAT. THE TRANSMISSION WAS COMPLETELY GONE THROUGH. EVERYTHING IS IN GREAT WORKING ORDER. THE PHOTOS OF THIS BIKE WILL DO ALL THE TALKING. I'M LOSS FOR WORDS. WIKIPEDIA INFORMATION: The Norton Commando was a British Norton-Villiers motorcycle with an OHV pre-unit parallel-twin engine, produced by the Norton Motorcycle company from 1967 until 1977. Initially having a nominal 750 ccdisplacement, actually 745 cc (45.5 cu in), in 1973 it became an 850 cc, actually 828 cc (50.5 cu in). It had a hemi-type head, similar to all OHV Norton engines since the early 1920s. During its ten years of production, the Commando was popular all over the world. In the United Kingdom it won the Motor Cycle News "Machine of the Year" award for five successive years from 1968-1972. Given that its engine was an old pre-unit design, even Norton's chairman, Dennis Poore, expressed surprise at the Commando's remarkable success. Background The origins of the Norton Commando can be traced back to the late 1940s when the 497 cc (30.3 cu in) Norton Model 7 Twin was designed by Bert Hopwood. The twin-cylinder design evolved into 600 cc, then the 650 cc Manxman and Dominator until superseded by 750 cc Atlas before being launched as the 750 cc Commando in 1967. As well as having a radical new frame, the Commando's engine (which was mounted vertically in earlier models) was tilted forward. This was relatively easy as the engine was "pre-unit", that is, the gearbox was not integral with the crankcase, and the change gave three benefits: (1) the centre of gravity was moved further forward; (2) this allowed more space behind the carburetors for the airbox; and (3) it gave an attractive raked appearance to the motorcycle. Isolastic system The revolutionary part of the Commando, compared to earlier Norton models, was the award-winning frame developed by former Rolls-Royce engineer Dr. Stefan Bauer. He believed the classic Norton Featherbed frame design went against all engineering principles, so Bauer designed his frame around a single 2.25 in (57 mm) top tube. Bauer tried to free the Commando from classic twin vibration problems, which had severely increased as the volume of the basic engine design expanded from the 500 cc of Edward Turner's 1938 Triumph Speed Twin. He, with Norton-Villiers Chief Engineer Bernard Hooper and assistant Bob Trigg, decided that the engine, gearbox and swing-arm assembly were to be bolted together and isolated from the frame by special rubber mountings. 1973 Mk1 850 cc 1973 Norton 850 Commando In January 1973 the 'Mk.5 Fastback' was launched and the 'Long Range' was discontinued, foreshadowing the first 850 cc machines launched in April 1973. The 'Roadster', 'Hi Rider' and the 'Interstate' all began to use a new 828 cc. engine, which had similar power to the 750 cc models but were less stressed. "AS MY WEBSITE INDICATES I'VE COLLECTED AND SOLD HUNDREDS OF BEAUTIFUL CLASSIC VEHICLES OVER THE YEARS. I'M PROUD TO SAY THAT I'VE SET MULTIPLE SALES RECORD PRICES AND HAVE SOLD MANY IN THE SIX FIGURE PLUS PRICE RANGE. I'VE ALSO HAD MANY VEHICLES FEATURED IN MAGAZINES AND ON THE INTERNET AS WELL. THE POINT BEING IS BASED ON MY EXPERIENCE AND REPUTATION I'M A VERY GOOD JUDGE OF CHARACTER WHEN DESCRIBING A CLASSIC VEHICLE. I DON'T COLLECT MANY CLASSIC MOTORCYCLES BUT HAVE SOME EXPERIENCE. THE 1973 NORTON COMMANDO 850 ROADSTER CUSTOM YOU'RE ABOUT TO WITNESS IS A ONE-OF-A-KIND AND TRULY STUNNING! THIS BIKE WAS ONE OF THE FIRST 850'S BUILT BASED ON THE BUILD DATE AND VIN NUMBER. THIS BIKE WAS OWNED BY THE LAST OWNER FOR ALMOST 30 YEARS PRIOR TO THE RESTORATION. THE GENTLEMAN WHO COMPLETED THE ENTIRE RESTORATION HAS A LOT OF EXPERIENCE RESTORING CLASSIC MOTORCYCLES. I PURCHASED A 1952 FORD F1 PICKUP CUSTOM LS FROM HIM WHICH WAS BEAUTIFUL. THE ENTIRE RESTORATION IS FULLY DOCUMENTED WITH PHOTOS THAT ARE INCLUDED WITH THE SALE. THE RESTORATION WAS JUST COMPLETED AND ONLY HAS 58 TEST MILES SINCE COMPLETION. THIS BIKE IS SO NICE IT'S HARD TO SPEAK OF THE OVERALL QUALITY BECAUSE EVERYTHING IS DONE TO A HIGH LEVEL. I'VE SPENT A LOT OF TIME RESEARCHING NORTON COMMANDOS AND HAVEN'T SEEN MANY EXAMPLES THAT COMPARE TO THE QUALITY OF THIS BIKE. AS THE DESCRITPION STATES THIS BIKE WAS SLIGHTLY CUSTOMZIED SO IF YOU'RE LOOKING FOR A COMMANDO THAT WAS RESTORED EXACTLY LIKE IT LEFT THE FACTORY THIS BIKE ISN'T FOR YOU. IF YOU WANT A CLASSIC NORTON COMMANDO THAT HAS BEEN BEAUTIFULLY RESTORED AND WITH ITS OWN CHARACTER THIS IS THE ONE FOR YOU. GET IT BEFORE SOMEONE ELSE DOES!" MARC SCHILIRO – THE OWNER Inspection ReportUnfortunately most classic vehicles that are being advertised for sale by dealers, private parties and auctions aren't exactly what are being advertised for sale. This is an industry with no real guidelines and everyone's opinion is completely different. The average consumer doesn't realize classic vehicles weren't restored at the factory and are being restored by people in their garages. Everyone's level of restoration experience is different and it shows in the restoration. An example would be a classic vehicle that's being advertised as an original model with matching numbers could be a phony with a reproduction trim tag and re stamped numbers on the engine block, etc. Another example would be a classic vehicle is being advertised as a full restoration when indeed only a few things have been restored. There are many classic vehicles listed for sale that have cosmetic and mechanical issues with such items as the body, paint, glass, lights, body hinges, gauges, window components, steering components, upholstery, engine leaks and tuning, radiators, transmission, rear end, brake components and suspension components. The consumers are spending thousands of dollars repairing the classic vehicles they've purchased after the sale. A bad purchase could turn into the buyer's worst nightmare and be extremely costly! MS CLASSIC CARS specializes in beautiful classic cars and trucks that are at a higher level of quality than most being advertised for sale. I personally have selected these vehicles and take pride in what I represent. I'm not a classic car dealer who is only looking to make a quick buck. I've seen dealers and private parties purchase classic vehicles at auctions and online and immediately list them for sale. Most of these vehicles aren't being advertised correctly and haven't been serviced or detailed. This business is my career and reputation which means everything to me. I do the best of my ability to represent quality classic cars and advertise them honestly. To be clear I'm not in the restoration business. I represent classic vehicles that have already been restored. This vehicle is owned by MS CLASSIC CARS and is located in Seekonk, MA. I personally have seen, touched and driven this vehicle. This vehicle has been through a service and detail process which is documented with an MS CLASSIC CARS invoice. I write the descriptions, take the photos, advertise them for sale and answer all the calls and emails. I'll personally go over the entire vehicle and tell you everything I know about it. I'll also give you my opinion if it's truly the right vehicle for you. I'll consider all trades and also offer financing if necessary. Once you've committed to purchase a classic vehicle from MS CLASSIC CARS, I'll make it a very easy process from start to finish. Once the funds have cleared I'll immediately mail the paperwork USPS 2-day air. A CD with the description and photos of the vehicle you purchased will be included in the package. I'll also assist in shipping your vehicle to its new home. If you've read the introduction tab or visited my website you'll probably agree I'm a bit of a perfectionist and represent very detailed classic vehicles. MS CLASSIC CARS has a great reputation and we continue to raise the bar in the classic car and truck world. I sell our classic cars and trucks very quickly because consumers see the value. I look forward to working with you. Please read my website testimonials and eBay positive feedback. Thank you for the opportunity! Marc Schiliro – the ownerWhy buy from MS Classic Cars?What makes MS CLASSIC CARS different from other classic car dealers and from vehicles being marketed privately on the market for sale? * Each vehicle has been hand-picked by the owner Marc Schiliro. * NO CONSIGNMENTS. We own the MS CLASSIC CARS inventory and know every vehicle well. * NO SALESPEOPLE. Deal directly with the owner Marc Schiliro when you call or email. * Every vehicle goes through a service process unlike most vehicles on the market for sale. MS CLASSIC CARS owns its own service and storage facility. * Every vehicle gets a complete MS CLASSIC CARS Classic car automotive detail which includes the exterior, interior, engine compartment, trunk compartment and undercarriage. This is valued at $500.00 * Every vehicle has a detailed description with multiple photos including the undercarriage which is done by the owner Marc Schiliro. * Assistance with financing if necessary. Competitive rates and terms are available. * Assistance with transportation once the sale is completed. * Assistance with insurance once the sale is completed. * Easy transaction from start to finish. Customer satisfaction is our #1 goal. Classic cars and trucks make great investments and are extremely fun to own. It's so exciting to search for a classic, purchase one and watch it come off the trailer, add your own touches, take it for a ride or just look at it sitting in the garage after a hard day at work. Classic car and truck collectors aren't just in the United States but worldwide. The classic car and truck market is growing every day. It's seen at car shows and auctions, in magazines and on TV shows. Get your new classic car or truck today. You only live once, if you can afford it, do it! I do the best I can to represent my classic cars and trucks. My results, feedback and reputation speak for themselves. Everyone's opinion of a classic car and truck is different and I encourage questions prior to a purchase. I have a beautiful showroom with excellent lighting and a lift for a complete inspection if requested. Inspections will be scheduled by appointment only. The closest airport is Providence, RI. It's only a 25 minute ride from the dealership. I can arrange to pick up at the airport. I also have a dealer plate that would allow for a test drive with a valid driver's license for a serious buyer. Please call 508-557-0152 or email for any questions. Thank you.
Trim Custom