Ranger 621 Motorcycles for sale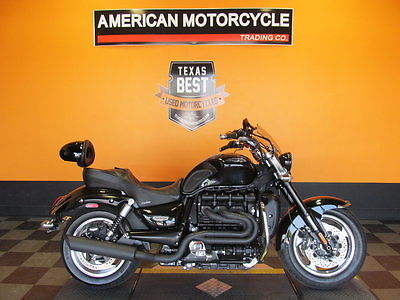 $11,888
Arlington, Texas
Category Touring Motorcycles
Engine -
Posted Over 1 Month
American Motorcycle Trading Company eBay Template 888.400.1151 2925 E.Division, Arlington, Texas 76011 www.CleanHarleys.com Open Tues-Sat from 9:00am-6:00pm DESCRIPTION 2014 Triumph Rocket III Roadster ABS Only 621 Original One-Owner Miles Phantom Black Finish 2294 cc Liquid-Cooled, DOHC, In-Line 3-Cylinder Engine 5 Speed Corbin Two-Up Seat Upgrade Trunk Custom Exhaust Padded Passenger Back Rest Engine Guard Wind Screen In immaculate, like-new condition. Please hurry on this one. I promise it won't last. Let's just do the deal! With the world's biggest production motorcycle engine the latest Rocket III Roadster builds on the huge performance of the original Rocket III but now with even more torque. The 2.3 litre, three-cylinder engine is designed to be an arm-wrenching thrill to ride, yet easy and unintimidating too, despite its thunderous roar. Its sweet handling chassis, rigid frame and sophisticated suspension gives you the confidence to sweep through corners and change direction with an agility that belies this Roadsters size. The latest Rocket III features blackened components including radiator cowls, rear mudguard rails, airbox cover, fork protectors, and mirrors giving our Roadster an even more menacing look. There's nothing else like it out there, not to look at, nor to ride. TABLE OF CONTENTS Description Warranty Information Financing Trade-Ins FAQs Photos Why Buy From Us Meet Our Sales Team Showroom Virtual Tour View Testimonials Contact Information Shipping Map Bidder Notice WARRANTY INFORMATION Serviced, inspected, and professionally detailed. Qualified for an optional extended service plan. View program details here EXTENDED SERVICE CONTRACT AVAILABLE We are offering a 20% off discount if you purchase at the same time as your vehicle! View extended warranty faq here FINANCING We are able to offer financing for almost all brands for individuals living in the US. If you would like further information about our financing programs, or require documentation to obtain financing on your own, please give us a call at 888-400-1151. Apply Now TRADE-INS We would be happy to consider your vehicle on trade. Please provide us some details on your trade by filling out the form after clicking on a link below or give us a call at 888-400-1151. TRADE MY VEHICLE FAQS Will you ship a bike that I purchase? I live in California, can I buy your motorcycle? Is there a clean title? Do you take trade ins? View All ASK A QUESTION PHOTOS WHY BUY FROM US Who is American Motorcycle? American Motorcycle Trading Company was formed in 1996. We came from humble beginnings, starting out in a 6,000 sq. ft. facility across from the Cowboys Stadium. We built our business on quality relationships with quality people. After serving the DFW community for approximately seven years, we outgrew our facility. In 2003 we bought a new building in the southeast corner of Six Flags Mall, just minutes from Texas Ranger's Ballpark. Our state of the art, 27,000 sq. ft. facility provided room for our growing business. After nine years at Six Flags Mall, we have decided to open an additional location in Mansfield, Texas. Look for the grand opening the winter of 2012! What makes American Motorcycle different from other motorcycle dealers? We distinguish ourselves from other dealers in variety of ways. The single most important reason is the quality of our motorcycles. Over the past 17 years, we have bought and sold approximately 20,000 motorcycles. Such significant experience teaches you what to look for in a quality motorcycle. We primarily obtain our motorcycles from dealers who take the motorcycles as trade ins. Our dealer principal spent almost 30 years in the automotive industry and has forged strong relationships with dealers nationwide. We also actively purchase motorcycles from individuals just like you!Our bikes go through a thorough inspection process. The initial inspection is referred to as a pre-buy inspection or PBI. Before we decide to purchase a motorcycle, our technicians evaluate the bike. This enables our buyer to select only the best units available. On top of that we go through a pre-delivery inspection or PDI, which is a 32 point mechanical and electrical check to insure a safe, trouble free buying experience. We sell most of our bikes to people we never meet! In order to maintain our reputation and build the requisite trust that our customers so often place in us, we take great pride and care in our make ready process. You can rest assured that when you buy from us, you buy a quality motorcycle. MEET OUR SALES TEAM SHOWROOM VIRTUAL TOUR VIEW TESTIMONIALS CONTACT INFORMATION 888.400.1151 2925 E. Division Arlington, Texas 76011 www.CleanHarleys.com HOURS OF OPERATION Monday Closed Tues. - Sat. 9:00am - 6:00pm Sunday Closed SHIPPING MAP Our premium shipping service includes palletized and enclosed door to door transportation inside the contiguous United States. Your motorcycle is carried by experienced, properly licensed, and insured shippers with proven track records. The price for shipping to your state can be found by clicking your state below. It includes $5000 in damage insurance. These quotes are for two wheeled motorcycles. If you are shipping a trike, plan on 30-40% more cost. Transit time typically falls between 14-21 calendar days for contiguous US shipments. Faster shipping can be arranged at an additional cost. Click your state below for shipping cost: International shipping ranges from $1500-$4500 USD. The buyer is responsible for the destination country's fees, taxes, and duties. BIDDER NOTICE NOTICE TO BIDDERS: While we make every effort to accurately describe our vehicles, please understand you are purchasing a used motorcycle. They come with no warranty express or implied from our dealership. However, the bike you purchase may have factory warranty remaining. American Motorcycle also offers extended warranties for your peace of mind. We encourage all buyers to look at the bike in person or order an inspection by a third party prior to the auction ending. Please review the numerous high resolution pictures carefully, as well as watch the Youtube video of the motorcycle located at the top of the auction. We take great pride in our customer's satisfaction and make every effort to point out any flaws in the motorcycles we sell. If you have any questions, please call us at 888-400-1151 and we will answer them. PAYMENT TYPES: Wire Transfers, Cashier's Checks, Personal Checks, Cash in Person FEES: All buyers will be charged a $125 documentary fee. This helps us with costs associated with title and bank paperwork and while it is a far cry from absorbing all the costs, it helps us keep the costs of our motorcycles low. Buyers will also be subject to a $195 dealer preparation fee. This fee goes to absorb the costs of oil changes, service work, professional details and photography. The last fee is a state required vehicle inventory tax. It is charged at a rate of .2158% of the selling price, which equates to $21.58 for every $10,000 of purchase price. Buyers will also be responsible for all state and local taxes and fees. TERMS: A $500 non-refundable partial payment is due immediately. Buyer must contact our office within 24 hours of auction close. The balance must be received within 7 business days via wire transfer, cash, or check. All checks are subject to 10 day hold. All bidders with 0 or negative feedback must contact us prior to bidding. Otherwise, your bid may be canceled. If these terms are not adhered to, we reserve the right to relist or otherwise sell the vehicle. BUYER PICKUP: A representative from our dealership can be available for pickup at area airports when necessary. Buyers must schedule pickup prior to making travel arrangements.
$7,900
Apache Junction, Arizona
Category -
Engine -
Posted Over 1 Month
Call or Text Michael @ 480-621-2424 Superstition Motorsports 10123 E Apache Trail Apache Junction, AZ 85120 Visit us on FACEBOOK "Superstition Motorsports" TO SEE WHAT ELSE WE HAVE!! 2002 Harley Davidson 88 CI V Twin 22k Miles Lowering Kit Vance & Hines Pipes Polished Lowers Polished Brake Calipers Braided Lines Polished Upper & Lower Belt Drive Cover Chrome Forward Controls Chrome Mirrors Chrome Grips Corbin Seat Like New Tires Call or Text Michael @ 480-621-2424 Superstition Motorsports 10123 E Apache Trail Apache Junction, AZ 85120 Arctic Cat, arcticcat, arctic cat 4, wild cat, wildcat, wildcat limited, wildcat x, arcticcat's, wildcat 1000, wildcat 4, polaris, rzr170, rzr 170, rzr 800, rzr800, xp900, xp 4, rzr, razor, rzr1000, rzr 1000, xp1000, xp 1000, eps, le, can-am, canam, can am, maverick, maverick max, BRP, commander, Teryx, Teryx4, Teryx 4, SxS, side x side, utv, utv's, utvs, discount, cheap rzr, clearance, liquidation Polaris RZR, XP rzr 4, XP1000, 1000, 900 yamaha rhino, Kawasaki Teryx, Can am Commander. Artic Cat, Prowler Wildcat, Jeep. Jeeps. Rock crawler. Ford Raptor. F150, F250, F350 Chevy Silverado, GMC Sierra, Any Offroad vehicle. Utv. Atv. Raptor F150 Raptor. Bronco. Blazer. Tundra. Tacoma. Ranger. Quad. Dirt Bike. ATV. Yfz450. Ltr450. Prerunner. Pre runner. Trophy truck. Maverick. Maverick max. Led lightbars, Light Bar, Lightbar, Class C RV Motorhome motor home sand dunes. Motorcycle
$36,995
Stillwater, Minnesota
Category -
Engine -
Posted Over 1 Month
2004 Custom Built Pro Street Glide . This is a one of a kind hot rod bike built buy Stacks Creative Customs. It won the Donny Smith show in 2006 and several other awards. Has all the receipts and paper work needed to show this bike is ready to ride.. It has a Brighton Bike works Rigid Frame 4in stretch 2 in rise. 124 diamond cut S&S motor 5 speed RDS Trans 280 rear tire and a 200 front tire.. Both tires are mounted on Hall-craft sopked rims 4in. Built 4 you open primary custom gelled Stingray seat amazing true flame paint job. There are many more intrinsic aspects to this bike.. Very fun and fast to ride. Bike has well over 35k in parts not to mention the custom fab and paint. There is less than 400 miles on this bike. Still looks and runs like a well tuned machine.. I am also interested in a possible trade for Skid Steers Ranger 620 621 Boat Polaris Pro Rush 2013 Ford Raptor Feather lite In closed car trailer. I will consider any reasonable offer and or trade.. Located in Stillwater MN.. Qualified buyers may be eligible for Financing Nationwide Shipping and Extended Warranties..