Gilera 175 Motorcycles for sale
$12,000
Upland, California
Category -
Engine -
Posted Over 1 Month
This is a fully restored beautiful bike. Always garaged and runs great. 1954 Mondial 175 Turismo , Few marques have achieved so fine a competition record in so short a time as Mondial, the Italian company's period at the very top of Grand Prix racing encompassing the years 1949-51, plus a gloriously successful comeback in 1957. F B Mondial was founded in the aftermath of WW2 by the Boselli family, whose first venture into powered transport had been with the F B (Fratelli Boselli) three-wheeled delivery van in the 1930s. The name 'Mondial' first appeared on a motorcycle in 1948, when the Boselli brothers introduced a revolutionary double-overhead-camshaft 125cc racer. Mondial's miniature masterpiece duly brought the Bologna manufacturer its first World Championship the following year and proved equally dominant in 1950 and '51. After a relatively lean spell, Mondial returned to Grand Prix glory in 1957, taking both the 125cc and 250cc World Championships. Not surprisingly, Mondial's passion for racing rubbed off on its road range, which was exquisitely engineered and beautifully constructed in a manner unmistakably Italian. $12,000.00 909-931-9686 This motorcycle has been fully restored and is in beautiful show room condition.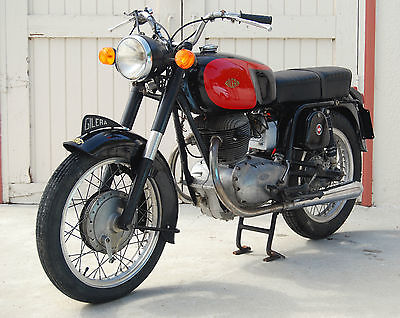 $5,900
Santa Monica, California
Category Standard Motorcycles
Engine 300
Posted Over 1 Month
In Barn-Find original condition! 1967 Gilera B300 Twin Engine #: 31*6061 Frame #: 31*6061 As 1952 rolled into 1953, Italy was the land of mainly single-cylinder motorcycles. A few four-cylinder machines were about, but strictly for the racetrack. Dozens of companies made scooters and little motorbikes, like the Ducati 65 and MV Agusta 98, and there were even a couple of big 500 singles, notably the Moto Guzzi Falcone and Gilera Saturno. Several small twins were on the market, such as the Rumi two-stroke Sport 125 and the Drusiani four-stroke Comet 175, but in the main, singles were in favor. They were cheaper to make and sell, for starters; Italians needed basic transportation in the 1950s, not performance. Also, the government granted a large tax break to purchasers of small-displacement (175cc and under) machines, so there was little impetus to build larger ones. However, this grated on all those Italian engineers whose motorcycles were winning races all over Europe. In 1952 Italian machines had won the 125, 250 and 500 world road-racing championships, Gilera taking the 500cc title with its DOHC in-line four. With a 500cc championship on display, Gilera decided to build a sportier utility bike. In the fall of '52 Gilera presented its prototype of the B300, a cheerfully competent parallel twin—B for bi-cilindro, or two cylinders. Since the parallel cylinders were inclined forward 10 degrees, it could not be accused of copying the British vertical twins. The B300 used a unit-construction engine, enclosing the four-speed transmission, a much more modern notion than having a remote gearbox. A duplex primary chain ran the power from the crankshaft to the multiplate clutch, which was bathed in oil. Bore and stroke for each cylinder was 60 x 54mm, for a total of 305.3cc. A single camshaft at the front of the engine operated the four valves, with the tried-and-true nut and screw adjusters for setting tappet clearances. The pistons rose and fell side by side in the traditional 360-degree firing fashion of parallel twins. A single 20mm Dell'Orto carburetor took the gas from the four-gallon tank, mixed it with the appro­priate amount of air and fed the fuel into the cylinders, where it was compressed at a rate of 6 to 1—Italian gasoline in those post-war years was of the low-octane variety. The spent fumes passed through a pair of shiny header pipes to the rather elegant chromed mufflers. The result of all this was a claimed horsepower of 12.5 at 5,800 rpm. This was a workaday engine, intended for reliability rather than performance, and was mated to a modern chassis using what the Italians called a duplex "open" frame. Two steel tubes came down from the steering head to the front of the engine, with the two mid-frame tubes securing the rear. As we say today, the motor was a stressed member. The rear suspension used a swingarm with Sturcher shock absorbers; the front was a Gilera-made telescoping fork. Wheels were both 18-inchers, with a 3.00 tire on the front, 3.25 at the back, both having 6-inch single-leading-shoe full-drum brakes. Dry weight was a modest 303 pounds. The kickstarter was on the right side, as was the gear-shift lever. The middling-twin prototype was received so enthusiastically that Gilera apparently accelerated the production schedule—the first ones to be sold being listed as 1954 models. Styling was very Italian, with a smoothly sculpted gas tank; a sprung solo saddle added to rider comfort, and an optional passenger pad could be affixed to the luggage rack on the rear fender. However, in the spirit of togetherness a dual seat was soon available. Minor changes were made in the B300 for the 1964 model year. Nothing radical, just a little more compression, a bumpier camshaft and now 15.5 horsepower at 6,500 rpm. The B300 remained in production until 1969. The bike offered here is a good, solid numbers-matching example of this rare piece of Italian style. The odometer reads 13,373 kms or 8,291 miles and I have little doubt from the overall condition of the bike that it is the original mileage. I have not attempted to start it, though it has good compression. The gearbox shifts through the gears, brakes seem to work, rear suspension feels good, but the front will need a rebuild. The paint on the tank looks original, as does the finish on the frame and fenders. Wheels and all cycle parts seem to be original. I don't think this bike has ever been apart. The rear indicators accompany the bike. Generally, it is in good, original condition, but it will need a fair amount of re-commissioning to be a reliable rider. Sold on a Bill of Sale.
Trim RARE
$12,000
Upland, California
Category -
Engine -
Posted Over 1 Month
This is a fully restored beautiful bike. Always garaged and runs great. 1957 Mv Agusta CST125 , 1953 saw the introduction of a new 175 cc overhead cam model. MV Agusta produced the 175 CST and CSTL (Turismo Lusso) for street use and soon developed a sportier 175 cc version with larger carburetor, a larger cylinder head with bigger fins, aluminum wheel rims and plenty of glossy red paint. The first year version (1954) of the 175 Sport featured a beautifully sculpted fuel tank that quickly earned it the unofficial nickname "Disco Volante" ("flying saucer") as, viewed from the front, the tank shape was reminiscent of a flying saucer. Soon after, MV began offering a very limited-availability racing version 175 cc "Super Sport" for MSDS racing (production club racing) equipped with unusual Earles-design front forks. In 1955, it was superseded by a new and improved Super Sport model with radical new styling and a 5-speed gearbox. Its design earned it the nickname "Squalo" (Shark). This 175 cc racing machine was very popular in Britain in the mid 1950s, where tuners learned to bore it out to over 200 cc capacity. Racers including Micheal ORourke, Derek Minter, and Bob Keeler raced the 175 and 125 Sport Competizione around Europe with a great deal of success. The marketing strategy of "race it on Sunday, sell it on Monday" was adhered to, and it worked. MV street motorcycles enjoyed immense popularity throughout Europe. In 1958 American rider Dave Schuler, riding a borrowed and barely modified MV 175 Sport street bike, won the 175 class at the famed Catalina Island GP off-road race, in California. $12,000.00 909-931-9686 this motorcycle has been fully restored and is a beautiful show piece and rider.