Basketcase Harley Motorcycles for sale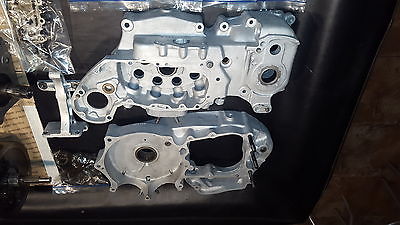 $1,500
New Smyrna Beach, Florida
Category -
Engine 1000
Posted Over 1 Month
Up for your consideration is a numbers matching 1972 Harley Davidson Ironhead sportster 1000cc basket case. Been collecting parts for a while but too many projects so gonna sell off a few. Engine cases are split, have been repaired blasted by a shop specializing in engine case repairs ( starter went out on P.O. and front corner of primary side of case was damaged ) Ready for some new bearings and re-assembly!Crank has been trued, 4 speed trans is intact and was checked for factory tolerances, cams and lifters are in good shape.Frame is in great shape, no molested or chopped in any way.Have both the original swing arm and a 84 disk break swing arm as I was going to run disk in the back and no front brake.Cylinders could use a hone but bore not required, was going to clean up hone and re-ring pistons for reassembly.Heads are original, everything had good compression before tearing down for case repairs.Valve covers have pitting and case covers a small amount as well, was planning on sanding and repainting anyway so never bothered finding nicer chrome.Clutch was working fine.No starter, as the old one detonated.Fork seals are decent.Generator included, unknown condition.New coil pack includedNew points cover includedNo Tins, no wheels. ( -minus oil tank/battery holder see picture - has some pitting )New engine gasket set includedPrinted copy of an original 1972 Ironhead service manual includedClean FL title in my name.I'm sure there are a few parts I am forgetting, if you have any questions shoot me a message. Don't waste my time with a super low offer, not hurting for cash. Buyer pays shipping, may be willing to deliver within 100 miles for a small fee. Ride safe.

$7,900
Springfield, Massachusetts
Category -
Engine -
Posted Over 1 Month
Harley-Davidson 45 Flathead Rolling Basket case. This Harley Davidson was taken apart in the 1960's for a restoration that never happened. Please look at all 24 pictures, You are bidding on what you see in the pictures. Excellent uncut original frame, excellent original springer front end, original 16 inch wheels, original sheetmetal, original handlebars, original CycleRay headlight, original Delco Remy horn, etc. etc. The motor cases are 60G cases from a Servi-car with matching belly numbers and in perfect shape, they came with this motorcycle when I purchased it. The bike has some modern hardware. I mounted old original Beck tires with new inner tubes to make it roll, the rear wheel is missing the star bearing retainer etc. as shown in the pictures. This is a great start to a crustoration, restoration, or nice bobber. Please look at the pictures and ask any questions, I only have what is pictured. Sold on a bill of sale only, I do Not have a title, if this is a problem, please do not bid. I have this listed for sale locally so auction may end early. PayPal is for deposit only. I can be reached at 413 204-6179 for any lengthy questions or if you want to inspect this in person before bidding. Sold as is, buyer is responsible for pick up at my address. See my other auctions.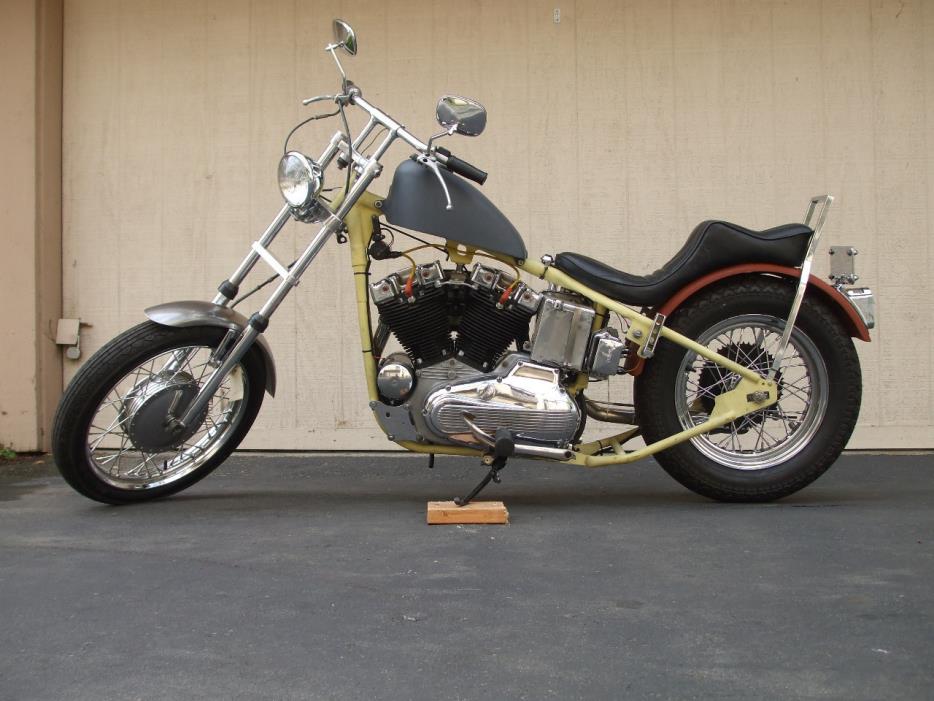 $2,000
Anaheim, California
Category Custom Motorcycles
Engine -
Posted Over 1 Month
1967 Sportster rolling basketcase The chassis is rolling. The engine is a basketcase. After 32 years in boxes, I decided to put this Sportster back together. Unfortunately, I don't have the money to put the engine right. IMPORTANT! The engine needs extensive work! A list is available. It is put together but cannot be run in its current condition. Everything is clean and dry though. This 900cc XLH engine is the first year of electric start for Sportster. It has 1000cc valves and Phase 3 primary belt drive (belt should be replaced). The frame has a welded-on hardtail and the front tubes are extended 2 inches. The shock forks are also extended. The tires (front - Continental 3.25X19, rear - Continental MT90-16) and seat are new. The rear sprocket needs to be riveted to brake drum. There is no - registration, gasoline, oil, battery, fluid in shocks, air filter, secondary drive chain, clutch cable, and horn. A horn is included with a couple of boxes of parts. cash only and you pick-up No text please. 714.782.7882