81 Fxwg Motorcycles for sale
$4,500
Herrin, Illinois
Category -
Engine -
Posted Over 1 Month
Very clean 81 Wide Glide with an excellent running 80 ci Shovelhead engine. We installed a new front Dunlop and the rear is like new.
$14,500
Harbor City, California
Category -
Engine -
Posted Over 1 Month
1981 Harley Davidson FXWG Wide Glide- - This bike was called the California Custom when originally introduced in 1980. Only 1000 a year made of this rare flamed FXWG edition 1980-81-and 82 I have no actual documentation that 83 versions were made I do know for a fact they were produced in 82.- - Extremely difficult to find this basically stock motorcycle has some mild era customization to make it run better easier starting and look sound good. I do accept trades on other old Harley's. Right turn signal lens now replaced with original Yankee lens.- - Located in Harbor City CA- Additional pictures on flickr available upon request- - Financing Nationwide Shipping and Warranties Available to Qualified Buyers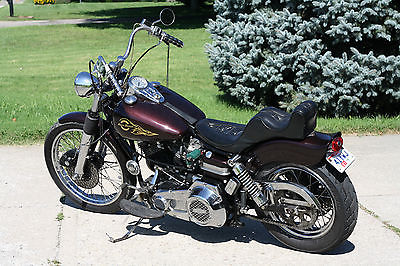 $5,000
Harrison, Ohio
Category -
Engine 1200
Posted Over 1 Month
I have decided to sell my faithful old shovel head. This is a rare Harley and very hard to find in this condition. I have owned this bike since 1984 and can tell you the full history of it. I bought this bike when I was in the military and it has been all over the world. I've made quite a few upgrades and custom changes over the years to the bike. I replaced the speedometer a couple times over the years and the mileage is not correct on the speedo, the real mileage is unknown. The bike looks, runs, and rides great with no problems and is ready to ride off into the sunset with its new owner. Here are the specs on the bike: 1979 FXS Custom 74 cu in W/ratchet top shift The paint is Black Cherry Metallic pearl and about 2 years old Dyna single fire ignitionComp Cams 4030 CamWiseco 9:1 pistons W/Hastings Rings2" Drag PipesEdelbrock Quick Silver 2 CarburetorManley s/s valves5 gallon fat bob tanks '81 wide glide front end6' risers81 FXWG pull back handlebarsSpoked front and back wheelsBelt primary drive, chain finalFL primary cover45 half moon floor boardsFwd Controls Tires are in great condition and have no dry rot or cracks Seat is old and worn, and has a few cracks but is very comfortableHas external breather so not to go to carb No guarantees or warranties Buyers with less than 2 feedback or negative feedback must message me prior to bidding. Buyer is responsible for local pick up or shipping. $200 deposit due with in 24 hours of auction end. Cash or certified bank check for payment. Bike will not leave my property until check is cleared. Bike is located in Harrison, Ohio which is about 20 miles west of Cincinnati. The Motorcycle is listed for sale locally and the auction may end at any time.
Trim Custom Cruiser