1992 Kawasaki Zx7r Motorcycles for sale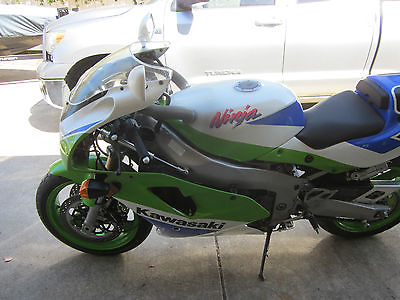 $9,500
Byron, California
Relisting do to a non paying bidder!!! : This is a 1992 Kawasaki Ninja ZX750K2. A real K model with only 8,590 original miles, unrestored time capsule. Just needs a little TLC to be a perfect K bike. I just pulled this bike from my storage. I was going to scrub it with a toothbrush and make it absolutely perfect as it is so original, but I just don't have the time so I figured I would offer it here. Hopefully it will go to somebody who knows what this is as it is getting harder and harder to find one of these that hasn't been butchered up or otherwise ruined. I just wanted to let everyone know that a buddy pointed out to me that there is a small dent in the frame where the steering damper is welded on the frame. I hadn't even noticed it until it was brought to my attention. I know it will be an easy fix as it does not affect the way the bike rides. This will be an easy fix for somebody, or you could just leave it since I had the bike for almost a year and never even noticed it. I think this bike is a lot better and more original than the one that just sold for $14,500. This one has original paint on the frame and swingarm, gas tank, and fairings. I think you would be hard pressed to find an original non-restored bike in better shape. With a little work, this bike can be a 10, and you wouldn't have to restore it as you know it's only original once. This is all original paint and original bodywork. Front upper fairing was cracked over by the left hand blinker. Fixed very well. The only way you would be able to tell is from the inside. I did include a picture. This bike has original equipment tires, stock handlegrips, all the stock nuts and bolts. Things I think the bike could use are: original chains and sprockets, maybe repaint the rear tail piece, and the front fender looks like there is a piece broken off on both sides, please look at pictures. A good cleaning would also be nice. Gas tank is close to mint. No dent or dings, maybe a few very light surface scratches, which will rub right out. Side fairings are in very good shape. No cracks, but a couple of small scratches, no scrapes. Rear tail piece has a couple of scratches and a couple of spiderwebs in the paint. As you know, that's what happens with these fiberglass tail pieces. This has had no paint work. The frame and swingarm are all original paint. Couple of scratches. Bike is jetted for aftermarket exhaust, but it does run well with the stock exhaust. It will run even better with an aftermarket exhaust because that's what it is jetted for. This bike also has NOS original tires that the bike would have come from the factory with. Bike runs excellent. All bolts and everything are stock and in excellent shape. All lights, blinkers, horn work. The dark spot in some of the pictures, like the gas tank and a few others, is from my camera since it has a dark spot in it. The dark spot is not on the parts or bike. If somebody wanted to spend some time cleaning this bike, it would look even better since the bike has been sitting for a number of years, just started occasionally and the tank and carbs drained after. Bike comes with one key because I can't find the other key. It also comes with owner's manual, tool kit, and a few spares like another set of stock calipers and extra front brake master, extra front brake rotors, rear brake master, and clutch master. It comes with stock smog parts. It also comes with the steering stabilizer seen in pictures and a service manual. Please do not place a bid unless you are serious and have at least ten feedback reviews. If less, contact me prior to bidding. I have a shipper that I have used quite a few times. He is based out of Texas and he will actually be at my house the second week of October. I will also help your shipper if need be. If local, I do not mind if you pick up. Thanks. P.S. If the winning bidder would like to buy a like new, Micron full exhaust for an extra $350, they can. Any questions, feel free to call me at 925-858-8617.
Trim ZX 7R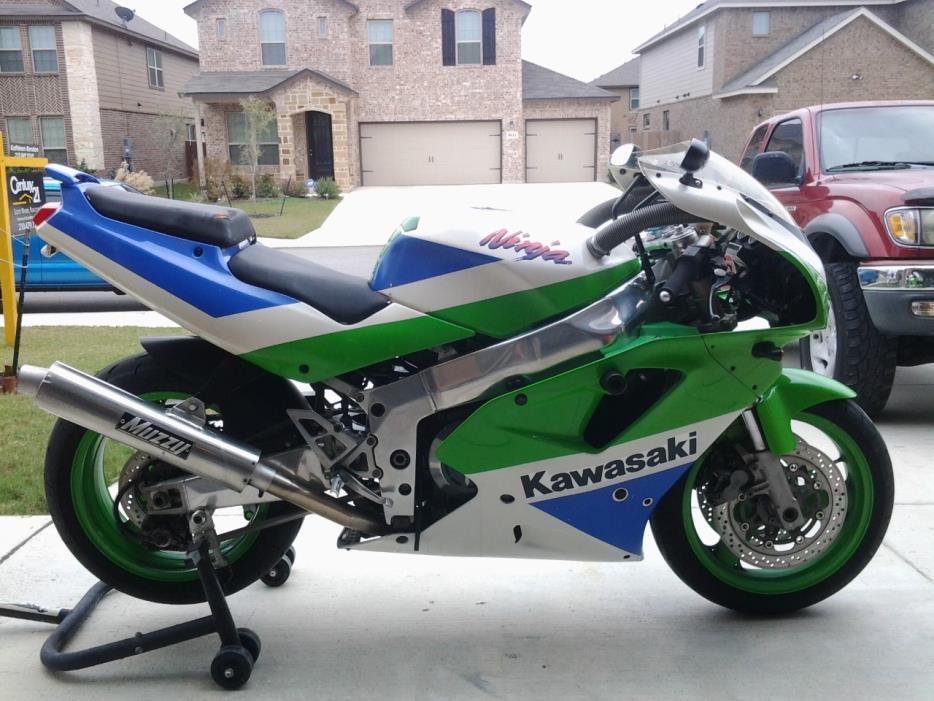 $3,000
San Antonio, Texas
ZX-7, ZX-7R, ZX-7RR, ZX7 ….. just wanted to make sure to catch all the searches. ¿ 1992 ZX-7, Kawasaki 750 23K miles. Only 6K on new engine. Just had $800 worth of Carb rebuild and cleaning (Dec 2016). Wife wants it gone, I want to keep. Fair sale of $3,000 with stands. $3,000 FIRM!!! Call Andy (805) 294-3978 Anytime.

$4,750
Reno, Nevada
Category -
Engine -
Posted Over 1 Month
RARE 1992 Honda CBR 600F2 Clean original unmolested survivor - Turn Key rider ! !! ! 1992 was a good year for Honda; Doohan nearly beat Rainey for the 500cc title on the Big Bang NSR500, Duhamel dominated AMA on the CBR F2, the stunning NR750 was released and the CBR 600F2 easily won 600cc shootouts while garnering huge sales... ...but few of them survive today as they left the showroom in 1992. DELIVERY FOR A FEE IS POSSIBLE! PLEASE CONTACT FOR A QUOTE OR TO MAKE AN OFFER! 530-591-7001 PLEASE CHECK MY OTHER AUCTIONS FOR MORE BIKES!! This is a very clean 3 owner 1992 F2, it is stock and original, right down to the California emissions equipment and exhaust that was left untouched. It has been ridden, around 800 miles per year. Always stored indoors, maintained religiously and as it shows, cared for very lovingly. Finding classic sport bikes of this era in this type of condition is exceedingly difficult. Yes, Honda produced a lot of F2's, but most were tossed down the road, raced or otherwise abused. Few stock original low mileage examples like this survive today. In the last 100 miles the bike has received a full going over, carbs have been pulled, cleaned and synced. Fresh 50/50 coolant, oil / filter, newer battery, chain cleaned and lubed and new brake fluid front and rear. The valves were inspected and adjusted at 12,000 miles. Though not 100% perfect the bike is very close, there is a tiny bit of rash on the left engine cover from the first owner, also a small scratch on the left side tail cowl. The bodywork is all original and shows some small wear in a few other areas but by and large is in incredible condition for the age. Small things like the warning stickers are all intact, the gauges are immaculate, switchgear and original keys in great shape. Tool kit and owners manual under seat. There is some slight wear on the top triple but that is easily sorted out...I left it as is.This F2 will be right at home in any collection, as a weekend rider or anything in between. Clean title, excellent running condition, no stories or disappointments. Please email me with any questions or if you would like any additional photos or have concerns. I may be able to help deliver this bike in the lower 48, contact me for a quote!! From SportRider- " The F2 was announced in late 1990 at $4998 and it promised to be a worthy follow-up to the original Honda Hurricane that debuted in 1987. The CBR600F2 had a liquid-cooled DOHC engine with a 65mm x 45.2mm bore and stroke that was even more over-square than the original at 63 x 48mm. The cam chain was moved to the right end of the crank to eliminate one crank journal, and compression was bumped up from 11.3:1 to 11.6:1. The new bike also featured 34mm flatslide CV carbs vs. the older model's 32mm round-slide units. With lighter pistons, crank and con rods, it was able to achieve a 500-rpm bump in the rev-limit to 13,000 rpm. The bike also had side mounted air scoops but they fed cool air under the tank and not directly into the 6.2-liter airbox. The engine was known for making good top-end power without sacrificing the midrange, which is one of the things that made it so special. The cams were actually designed with midrange power in mind and the excellent cylinder head flow was rumored to be the secret to the top end power. The included valve angle was shrunk from 38 to 32 degrees, and a shim-under-bucket valve actuation replaced the old rocker arm assembly. This also allowed valve adjustments to jump from 5000 to 12,000-mile intervals. Honda also fitted a smaller clutch and primary gears to the F2 that allowed the output shaft to be positioned 0.5 inches closer to the crank. In order to compensate for the smaller diameter clutch they simply added a few extra plates and mated it to a six speed tranny. Overall the new engine was 2 inches smaller and 0.6 inches narrower and 1.3 inches shorter than the old model. This change along with a shorter fuel tank allowed Honda designers to move the rider closer to the front wheel and improve handling. The forks were upsized from 37mm to 41mm and featured preload adjustments, while a new single rear shock sported preload and rebound adjustments, in addition to a new box-section swingarm. Six-spoke RC30-style wheels were 3.5 x 17 inches in front and 4.5 x 17 inches out back. The chassis was a new twin-spar design but was still made from steel, with 25 degrees of rake and 3.7 inches trail with a 55.5-inch wheelbase. Front rotors were 275mm-diameter units squeezed by twin-piston slide-pin calipers. When fully tanked up, the F2 weighed a lean 455 pounds, making it the lightest bike in its class compared to the 490-pound Kawasaki ZX-6 or the 458-pound Yamaha FZR600. Owners of the F2 report that it was a very balanced bike that could easily be street-ridden or raced on the track. Unlike the extremely narrow focus bikes of today, the earlier generation could really do it all. The dyno charts of 1991 show the CBR-F2 making a class leading 85 horsepower and quarter-mile times of 11.3 seconds at 120 mph. And it was not only the quickest and fastest bike in the 600cc class, it still delivered 42 mpg. Honda ruled the 600cc roost and would not face a serious challenge until the new Ninja ZX-6R arrived in 1995. " I RESERVE RIGHT TO END AUCTION FOR LOCAL SALE!!!