1977 Yamaha Enduro 500 Motorcycles for sale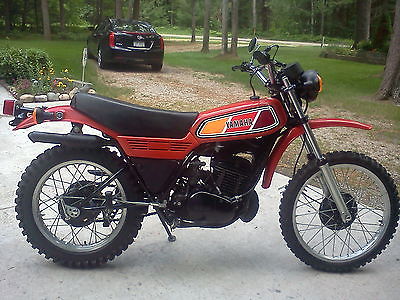 $3,950
Gaylord, Michigan
Category Enduro
Engine 400
Posted Over 1 Month
$3950.00 This motorcycle is 100% original condition with no modifications. I am the original and sole owner and the motorcycle was purchased on February 6, 1978. I have the original paperwork, title, manual, and the original tool kit is complete and in its original container. There are no dings, dents, damage or scratches. The original factory paint and chrome is like new. The bike has been well maintained, reliable, and has no known mechanical issues, and is in excellent and superb overall condition. There are no tears, cracks or rips in the original seat and under the seat the seat frame shines like new. There is no pitting in the chrome, fenders, trim, or rims. The motorcycle is currently titled and has been licensed. It has always been started or rode on a semi- annual basis each and every year since new. This bike is show room clean. It has always been stored in a heated garage and transported in an enclosed trailer. This is a beautiful, immaculate, and meticulously cared for classic motorcycle. If you have any questions, please contact me. My age dictates that the two-wheeler must go since I have recently purchased a three-wheeler. Bike is being sold in "as is" condition with no warranties express or implied or otherwise as to the physical or mechanical condition. This is a used motorcycle. Cashier's check in the amount of $500.00 as a deposit must be received by seller within 48 hours of the auction closing. Purchaser must pickup the motorcycle and pay the balance within 96 hours of the auction closing, or personally inspect and reject the motorcycle within 96 hours of the auction closing. If rejected the deposit of $500.00 will be returned, however, failure to pay the balance and pickup the motorcycle or inspect and reject the motorcycle within 96 hours shall constitute a forfeiture of the deposit of $500.00 which shall be retained by seller as liquidated damages. The buyer shall pay all costs of pickup or shipment and accepts all responsibility for the same. The pickup shall be at the seller's address located in Gaylord, Michigan. Thanks for looking and good luck bidding. Seller reserves the right to cancel this listing at any time.
$1,475
Lakewood, California
Category -
Engine -
Posted Over 1 Month
This Magnificent 1977 VINTAGE RACING 400 YAMAHA Was Built when YAMAHA YZ Race Bikes Were Considered "TEN out of TEN" by Most Cycle Magazine Editors (YZ 400 Dirt Racing Bike with YAMAHA's "ALL BUSINESS" Bigger Better Factory YAMAHA YZ Factory Racing Porting & Factory YZ Tuned Pipe) This is the Versatile Go Most anywhere Dirt Racing Bike ! Again,When these 1977 YAMAHA YZ's were built they were considered a near PERFECT "TEN OUT OF TEN" Dirt MX RACING BIKE !!!Most everyone I have ever talked with agrees these MONO SHOCK YAMAHA YZ 400 cc Dirt Racing Bikes have hands down Always been considered one of the Worlds BEST Dirt / Racing bikes & YAMAHA has Long Been known for their great handling & performance & Also...Maybe More importantly in 2014 Their Trouble Free Reliability & Durability.This Beautiful Bike is YAMAHA's "Off Road" Factory Production MX Racing Motorcycle ((this is NOT a Sleepy "Ho Hum" Trails or Enduro bike it is a VERY FAST Off Road Dirt Racing Bike)) In Fact when this bike was produced the YZ 250 & 400 I believe were YAMAHA's "FASTEST" MOTO-CROSS !!!!...This is a YZ 4250 CC YAMAHA World Class "Off Road" Racing bike)). In Fact, I have been told these YAMAHA YZ 250's etc. have Won "MANY" WORLD Championships ! This AMAZING YAMAHA 250 YZ in 1977 was nothing short of "Rocket Science" when this Wonderful RACE Bike was made (in Both Suspension & ~Engine HP etc.) & YES ! ! ! ...it is VERY FAST !!!! With it's HUGE Horse Power 250cc Displacement & fairly Good Low, Great Mid & Brute Higher RPM Torque & Horsepower ...With her Very Use able Power to get you out of most any situation , She is Agile + Nimble & with her Fac. YAMAHA Bigger Better Factory YZ Ports & Tuned Racing Exhaust)... she Starts Super Easy + Idles Down Good & has Mountains of Very Useable mid & a Full Range HP FAR More than Most any dirt bike would have from this Era !!! This Should make it... FAR MORE "FUN" & FAR Easier to ride & Control & Most Riders Again Keep in mind the YZ' 250's at this time were More Powerful than Most any other Dirt Racing Bike from this Era & with her FAMOUS YAMAHA Fully SELF TUNING REED Induction her Power is More Control-able on a Moto Cross Track or Enduro Courses etc etc Than Many other Dirt bikes of this Era...Because of that... That is why these YZ 400's YAMAHA's were in 1977 One of the Most Useable Dirt Racing bike's you could own as they were (& are) GREAT for: Desert, Moto Cross, Hill Climbing, Cow Trailing, Off Road Dessert Riding... Actually a Very Wonderful Bike to do most anything OFF ROAD with....Again, these AMAZING YZ' 250s with their HUGE Horse Power Engines & Self Tuning Reed Induction are considered FAR More Versatile & FAR More Powerful than a most 250's etc in her class of this Vintage Era ! This Baby Starts Easy & Runs GREAT !!!! & I think She Looks like a Million dollars !!!! This Beauty has been in storage for many years !!!! It looks like it has been fairly well maintained and not abused & therefore as it has quite a bit of it's whole life ahead of it !!! FEAR NOT ! ! ! These are Super Nice & SUPER "FUN" Bikes to Ride + I feel Very light for a Open Class bike & also Very Forgiving to ride & Without Question are ....Known for being Very DURABLE, Very RELIABLE & SUPER FUN ! FUN ! FUN ! to Ride This is a Bike that most everyone seems to think feels very natural to them & fits most say it fits them like a Glove ! The 400's were also based on the 250 chassis etc so Displacement size it is Super light & Super Strong + Very Agile ...As it's center of Mass is fairly Low for a Bike of this size & Great for New Riders as it's seat is fairly low off the Ground Most People agree these YAMAHA 250 YZ's are Possibly one of the MORE FUN , MOST RELIABLE & Best Built & "Hands Down" one of the MOST Trouble Free Dirt Racing bikes made ! & This Baby seems to Run GREAT ! ..& Typically she Starts Super Quick !! and there are plenty of Great People that carry a TON of parts for these Wonderful YAMAHA Dirt/ Race bikes should you ever need anything! (In fact I have several Great Spare YAMAHA Dirt Racing engines as well as cylinders & heads etc etc etc. up for sale right now ). Keep in mind this bike has been in a garage in covered storage for several decades !!!! & as you can see...It is in AMAZING CONDITION ! ... In Fact ...I think she has her Original Gas Tank, Front Fenders and right & left Side Number Panels are in Good Shape and like her beautiful tank have all been refinished and as you can see I think they ALL Look Great ! & Yes, She has what looks to be New old stock Original 1977-79 YZ YAMAHA Graphics !!!! My Mechanic and I flushed out the tank, Carb Fuel lines & the entire Fuel System & added a Brand New in line Gas Filter, & again it looks to have Her ORIGINAL YAMAHA Gas tank ..This Beauty STARTS & RUNS GREAT & She is "Ready to Go have some fun with" ! Try to keep in mind these Wonderful Bikes are all About FUN ! ......Think About it if You pass this Baby Up ....where else will you ever find a 1977 YZ 400 CC YAMAHA "Off Road" Racing Bike with so little use & so Little abuse ...on her ! ! ! As far as Dirt bikes Go ...the bigger the bikes displacement is... the less hard the bike has to work (IE) many Enthusiasts feel a 250's engine will last FAR Longer than a 125 !!! ....Also, this bike looks to be in Very Nice Condition (Even her DID style Alloy Wheels LOOK GREAT ! ! ! ! ! ! Most everyone that I have talked to over the years has told me that these YZ 250 YAMAHA VINTAGE Dirt RACING Bikes were one of the very Best & Most advanced bikes of it's day....& based on my experience with these YZ 250cc Bikes ... I would have to add maybe "One of this ERA's Very Best, Most DURABLE & Fastest and Most Versatile Dirt bikes EVER MADE !!!! Many of My Very Best friends & Best Racing Buddies used to have several of these YZ 250s & another friend had a YZ 400s when they first came out He was Big in "The Checkers" Dirt Racing Motorcycle Racing Club....& I can tell you their YZ 250's were FAR Better (100,000,000%) better than my 1974 250 YAMAHA MX & I would have bought a YZ 250 also to but I was just financially unable to swing a Bike that Nice..... If you live out of the Country I will be glad to supply you with a California Certified "NOTORIZED * BILL of SALE" as I recently sent two of my Vintage Collection bikes to the United Kingdom (England) and that is all that they required. To my eye ...I think She looks Great ! ...I have always been very Proud of this particularly Beautiful 1977 250 cc.YAMAHA YZ 250 VINTAGE DIRT RACING Bike !! ....& Even in 2014 She Still LOOKS GREAT !!! + She Starts Easy & Runs & Shifts GREAT ! as these are Super Reliable & DURABLE Bikes ! & Everyone seems to be in agreement that .... "These Bikes are GREAT ! & Quite Possibly one of the More FUN & RELIABLE Bikes I have Ever ridden in the past "FIVE" Decades Since the late 1950's !" (...& I was a Technical Editor for "CYCLE NEWS" Magazine 1969-1975 (at that time it was the Largest Motorcycle publication on Earth ! ! ! & I wrote 14 Four to Five page Featured Technical Articles for "Cycle News" magazine & Also, I was a Four+ Year Sponsored Open Class "TT" & "Half Mile" Racer for "BULTACO" Motorcycles late 1969 to 1975 So ...No One Loves a Great Dirt Bike Better than Me ! ....and again ........If you Pass Up this Wonderful Bike where will you ever find a Vintage 1970's YAMAHA Off Road Racing Bike this NICE Especially with so little use on Her ????? ?????? This is a Bike that most anyone could Have "BIG FUN" ridding all day long On !Most everyone I have talked with agrees these MONO SHOCK 250 CC YAMAHA YZ's have hands down in this ERA have DURABILITY Always been considered one of the Worlds BEST Dirt / Racing bikes & YAMAHA has Long Been known for their Trouble Free, Reliability. The YAMAHA 250cc YZ with it's Self Tuning REED Valve Induction... Unlike many other dirt bikes are probably one of the Easier to Ride & I think Most Most Rider Friendly 400cc displacement Class Dirt Racing Bikes ever Made !!! & this 1977 YZ 250 is BY FAR one of the Most Evolved Early Successful Dirt Racing Bikes as it has all of the Most sought after Goodies (Self Tuning Reed Valve Inductions system, For the First time Decent "Air Pressured" "Big Travel" Forks & "Pressured" Decent Travel Rear Shock Suspension with its Pressurized & heat treated Aluminum Forks "Super Strong" MONO shock Rear suspension (again..."in 1977 All of this was Dirt Racing "Rocket Science" that Really Worked GREAT " ! ! ! ), Very Simple less hassle far more reliable Air Cooled (These Had a Much better than the later 1980's early water cooled YAMAHA's Etc etc I have heard) (this being one of the last years of these Very Perfected YAMAHA 250 cc ("Air Cooled") engines ( Factory Tuned MX style Race Factory YAMAHA TUNED EXPANSION Chamber style) Tuned Exhaust Pipe , Original Factory Big Radial style Cooling HEAD & All of this Yet She is still nice and (relatively) fairly low to the Ground ( Lower Center of Gravity makes this bike Far More Stable less Scary for Newer Riders) and because of her fairly Low height She will even fit in right into my Chevy Astro Mini Van even with the vans center seat still in place !!!! How many 400 CC Off Road DIRT RACING bikes can do that ! This Baby Typically Starts Quick & EASY ! This Has her original YAMAHA Factory seat that was Completely rebuilt from the frame up by my Custom Car Upholstery Shop & she also has her Original YAMAHA Headlight Front fenders & left side panel, Her Original Gas tank has been Newly refinished & Painted as are the Front & Right & Left side panels and Both Front & Fenders. YES ! the gas tank Graphics have been replaced with what looks to be ORIGINAL New Old Stock 77-79 YZ Graphics that help make this bike look new ! The inside of her tank looks GREAT. She has her Original foot Pegs, shifter, She has Nice NEW Handlebar Grips & Handlebars ! brake & clutch levers etc etc are still in Very Nice Condition ! The Shifter and Brake levers also Look Great ! This Beauty looks to have been in storage or was definitely not ridden much at all & Currently ...She is "Running Great" She has not been ridden much in recent years I think the more you run her the better she will run ! .... Make No Mistake this Baby: Runs, Shifts & Rides GREAT ! * * * Again.... Think About it , if You pass this Baby Up .....where else will you ever find a BEAUTIFUL GREAT & SUPER VERSATILE 400 CC YAMAHA YZ Racer with very little use on her ! ! ! ??????????????????????? This Wonderful Bike was storage in a Nice Dry Garage for many years.The tank & Carburetor were flushed & we put in fresh gas & She started right up ! ! ! ! ! ! !) My mechanic installed a Brand New inline fuel filter etc...& Every time we have run this Beautiful Bike over the past few weeks "The Engine Runs Great and Typically starts Quick ! It runs well & seems Shifts well thru the gears GREAT ! ! ! PLEASE NOTE: This Auctions Bidding Rules: This is a fairly Big ticket item so please NO NEGATIVE feedback bidders or if you are new to ebay (less than 90 days) & or have less than 5 feedbacks feedback ... please email me & get approval "PRIOR" to bidding or your bid may be removed etc * Please ask all your questions and do your research "PRIOR" to bidding on this item. AGAIN... PLEASE, work out all shipping details & Know what Transporting will cost you BEFORE You Bid !, Buyer is responsible for & pays for any and all shipping involved with this item .Also, Please make sure your spouse is up for this..* Winning bidder must contact us within 24 hours by phone & Place a Non Refundable 500 US dollar pay pal deposit (I will email you my phone number immediately after the close of auction). * & Also... ALL Negotiable Funds must be received within 3 days of close of auction. * * * If these have not been done * Please Note *... You will be in default of this auction. * * * ....Provided this is paid off (in required three (3) M-S days) I am willing to store the it for up to 2 weeks in my garage from close of auction while you arrange pickup & I will gladly assist you with shipping to any International or Domestic Shipper in the Los Angeles Harbor area.Seller reserves the right to the close of this auction at his discretion prior to the end of this auction . Like all real auctions all sales are final. Like most any used item terms of sale are of course, AS IS with no implied or expressed warranties. and purchaser assumes all risk for the use of this Wonderful Motorcycle. All forms of payment must be Proven "Cleared" by my bank before this Wonderful Bike can leave my homes garage. Please do us both a Big Favor and Please do not bid on this item unless you are able to 100% Fund this at this time, unless prior arrangements have been made & Cleared by me (Prior to bidding on this item). Thank You, Good Luck and Happy Bidding ! * * * If you have any new riders they will appreciate the fairly Low Center of Gravity of this Wonderful Bike.. Her Very Do-able Stance and Stable (Not as Top Heavy) feel of this Magnificent YAMAHA 250 cc YZ VINATGE Dirt Racing bike Particularly compared to most all of the of the new dirt racing bikes . PLEASE NOTE: These Classic YZ YAMAHA 250 cc bikes in Great Condition typically sell for about $2,000.00 to 3,000.00 (if you can even find one) & & up particularly with the Low time on her this bike has... You can steal this bike for just Pennies on the Dollar....As I need to make space here as we lost all of my storage next door ...So my loss could be your gain as ...I am selling this well under market value. If you are a Vintage Bike Enthusiast and LOVE to tinker on these Wonderful Bikes you will make out like a Bandit on this Beautiful Bike for the Very Low price I have listed it. I was Really hoping this bike would end up with someone that is a Vintage Bike Enthusiast Someone that would really enjoy riding & getting a chance to Really ENJOY this wonderful "FUN" bike. As I would prefer it Not to end up with a "nit picker" that knows nothing about these Wonderful bikes and is just trying to make a big profit by re-sale-ing this bike and in reality cares nothing about this bike. So if you are a "nit picker" or a re-Saler please do not bid on this auction as I want this bike to go to a good home that will Love it ....as it Should Be !I feel Overall the bike is in Great running Condition. .The Engine RUNS GREAT and typically Starts in Quick & EASY ! ! ! ! She Shifts & Stops Great. I think just running this bike a little She will Run better and better and Better . Again, as I think I mentioned earlier I have an agreement with my wife that I will only tinker on my Classic Bike Collection and I have agreed not ride any of my vintage collection or any bike & being in my later 60's it seems like a reasonable request. So... there you have it you can get this Great Find for about a Third of what I have seen these go for...A GREAT Bike that is built good enough to last Many More decades & Will Always be collectible and will always have a Following of Delightful People that Know and Respect these Great Motorcycles from YAMAHA ..."a Company that has Won Many (a TON) of World Championships for a over half a Century" !...This is a Timeless Beauty & a True High Quality Japanese 1977 Bike..... that Runs GREAT & I would guess her overall chassis is most likely Barely broken in... & You can Get All this... for Peanuts !