Goldwing 2006 Motorcycles for sale in Shawnee, Oklahoma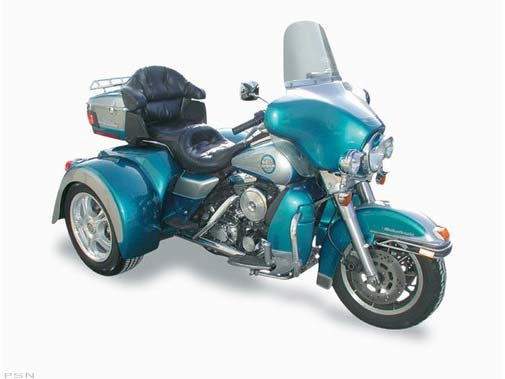 $21,999
Shawnee, Oklahoma
Category Trikes
Engine 1,584 cc
Posted Over 1 Month
2008 Champion Trikes Harley-Davidson FL, NICE TRIKE!!! - The Champion FLH trike kit is proof that American workers are still best at building accessories for a motorcycle born out of American dreams and dedication to quality. Regardless of whether your interest is in cross-country touring, continuing a lifestyle or maintaining long friendships at the local coffee shop, we're confident a Champion trike will be a good fit for you. Our FLH trike kit is built to the highest standards by craftsman dedicated to producing a product that will out-perform, out-ride and out-shine all competitors. With performance features like disc brakes, Basanni mufflers, "Zero-Flex" swing arm, our custom-designed mounting hardware featuring the fastest and cleanest installation available of any trike company, this beauty is certain to keep your dreams alive!
$23,999
Shawnee, Oklahoma
Category -
Engine -
Posted Over 1 Month
2006 California Side Cars Cobra, VERY CLEAN TRIKE. COMES WITH A FEW ACCESSORIES. COME CHECK IT OUT TODAY!! - Trike Conversion for the GL1800 Goldwing. Style. Performance. Attitude. That sums up the COBRA by California Sidecar Trike. It makes a statement, whether in the parking lot or on your favorite winding roads, "don't mess with me". Aggressive styling and the most innovative performance-engineered suspension available will keep you riding in the front of the pack with venomous rule! At its core, a race-honed, fully independent suspension system crafted largely from weight-saving aluminum, smoothes the roughest road, while providing responsive handling to the driver. Monoshock design and race blades work together to control body lean and keep the trike flat through the most demanding curves and our proprietary brake caliper (patent pending) and fully integrated link-brake system deliver unmatched braking power and control. At the same time, our independent suspension delivers a soft, cushy ride to both passenger and driver, making every mile more enjoyable. Add the Power Trak 1800 to create supreme steering feel and control.
$13,499
Shawnee, Oklahoma
Category -
Engine -
Posted Over 1 Month
2006 Honda Gold Wing Premium Audio (GL18P), VERY NICE GOLDWING. IS IN GREAT SHAPE, FRESH SERVICE, DETAIL, AND IS READY FOR THE ROAD. COME TAKE IT FOR A TEST RIDE TODAY!! - Luxury touring. The powerful 1,832 cc flat-six Gold Wing has always defined this class. And new for 2006, the Gold Wing Premium Audio model features six speaker elements and an 80-watts per channel external amplifier. You can even add an optional six-disc CD player. It's in a class of its own.