Motorcycles for sale in Saanich, British Columbia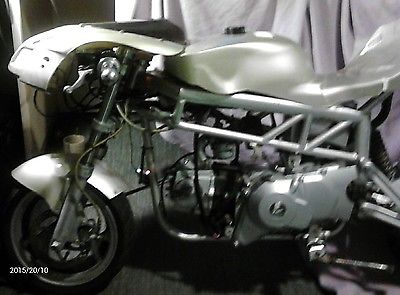 $300
Saanich, British Columbia
Category -
Engine 107
Posted Over 1 Month
IM SELLING A BELOVED, BUT AFTER I WAS MARRIED BANNED BY MY WIFE FROM THIS 2005 XINGHYU 107CC, POCKET BIKE, THAT ALL IT NEEDS TO RUN IS A NEW BATTERY AND SPARK PLUG.THIS MONSTER WAS CLOCKED AT 87 KM LAST TIME I ROAD IT, AND THE WIFE MADE ME STORE IT AFTER THAT.ITS ONLY ABOUT 120 LBS, WITH A MONSTER 107cc GAS ENGINE, BUT I ,LOVE THAT NO KICK START, ITS GOT A PUSH BUTTON ELECTRICAL STARTER.
Trim 107cc gas engine 2005 model with electric starte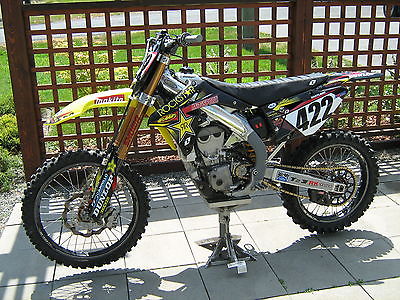 $10,500
Saanich, British Columbia
Ryan Sipes 2013 RMZ 450 Rockstar Racing Suzuki Outdoors full race spec team bike. Purchased from the team when they went KTM. The Texas title has american Suzuki on it and is signed over by the Rockstar office manager S Zapata. This bike has everything that the team used in 2013 which includes a long list of aftermarket race parts. There is a great Video on Youtube and if you enter inside Davi Millsaps Rockstar Suzuki it will go over the 2013 Rockstar Suzuki 450 set up which has pretty much all the same components as this bike other than the suspension set up for supercross and the handlebar choice. That said, I will try to list everything. Dubya carbon fiber hubs with Talon A-60 rims, Showa full A-kit suspension and is the traditional spring fork assembly that the team was using in 2013 (which has had a full service 3hrs ago and currently set up for a 190lbs intermediate rider), full titanium bolt kit (which is all the suspension as well as the engine bolts), Galfer oversize front brake, Applied triple clamps, Vortex ignition system, heat shielding on underside of fuel tank, Hinson complete clutch assembly complete with factory equipped only (Suzuki Hinson clutch cover), full race spec. engine with 5hrs on complete rebuild (with a high quality high compression piston and aftermarket cams and rod), tumbled transmission, aluminium throttle tube, tasanari intake boot, raptor titanium foot pegs, FMF full race spec titanium exhaust ( with double shielding on the header), Works Connection holeshot device, Electronic handlebar holeshot device (Rockstar Suzuki exclusive in 2013), Light Speed carbon fiber skid plate and chain guide, Dunlop MX32 tires, ARC levers, all suspension bearings and head stay bearings are replaced. and I am problably missing some other items. This bike is very fresh. I can help with shipping to the west coast of the U.S. (for a small negotiable fee). This bike is as it was raced in 2013 and has a monster motor (this thing is scary fast) Here is your opportunity to purchase an full race spec bike for a very reasonable price. The starting price wouldn't even pay for the suspension new. Please ask all questions before bidding.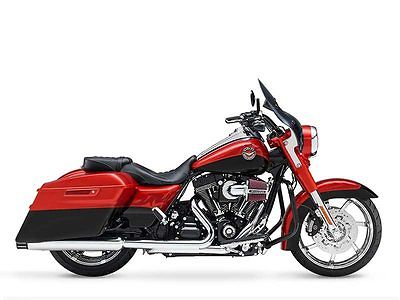 $24,000
Saanich, British Columbia
Category Cruiser Motorcycles
Engine 1801cc
Posted Over 1 Month
This is a Beautiful color combination with factory custom graphics. All recalls attended by Dealer. BLACK AND ORANGE CVO PAINT SCHEME110CUBIC SCREAMING EAGLE ENGINE1801 CCSIX SPEED TRANSMISSIONCRUISE CONTROLKEYLESS IGNITIONSELLING BY ORIGINAL OWNER-BIKE ARRIVED FROM MANUFACTURER TO DEALERSHIP JUNE 2014 ON SPECIAL ORDER BY ME, THE SELLER. ALL RE-CALLS COMPLETED BY DEALER.LOCATED IN VICTORIA BRITISH COLUMBIA CROSS FROM PORT ANGELES WASHINGTON STATE FERRY RIDE FROM PORT ANGELES TO VICTORIA 90 MINUTESCALL PETER +1 250 216 2200
Trim FLHRSE