3 Wheel Motorcycles for sale in Boston, Massachusetts
$5,000
Boston, Massachusetts
Category -
Engine -
Posted Over 1 Month
2012 Piaggio Mp3 400, the ultimate city motorcycle. Only 3000 miles. Mint condition. Clean title. New tires. Ready to ride. Includes new Givi adjustable windshield full protection on Highway when up and just push it down for summer hot days also includes brand new Pirelli Diablo tires. The best! Titled as a motorcycle not a scooter. 2 wheels in the front and one in the back! Stabilizer button - NEVER put your feet down until its time to get done riding! Comfortably sits 2 riders. 400 cc 90mi max speed you can drive on any highway and feel safe Piaggio MP3 three-wheel scooters, providing safety, road grip and stability levels that no two-wheeler can match. Its power, performance and ease of use make for a very entertaining ride. The Piaggio MP3 is mind-bending -- not because of its speed, but because of how much confidence an extra front wheel affords. It opens motorcycling up to a new, safety-conscious commuter audience who wouldn't ride a motorcycle. The feeling of security is unparalleled. Even in the wet, the MP3 hangs in there without feeling like the wheels are skating, and the brakes can be used to their full -- lockups are rare but easy to control. A massive under seat storage compartment can swallow two open-faced helmets or one full-face and a significant amount of luggage. The dash provides fuel level, time, twin trip meters and ambient temperature information. A center stand is fitted, but rarely needed due to the locking steering, and a handbrake stops it rolling down hills. The bodywork is protective too. Max. Speed: 90 mph Gas Mileage: 60-65 mpg Displacement: 400cc Gas Tank: 3.2 gallons Seat height 31 in $5,000.00 9173635929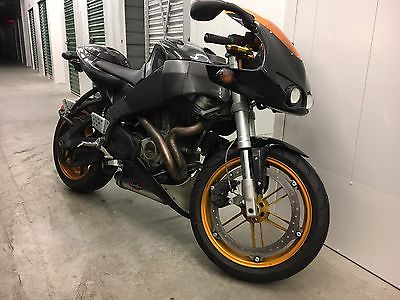 $3,600
Boston, Massachusetts
2006 Buell XB12R Firebolt in excellent condition!(Located in Newton MA) - This bike was fully checked and serviced by the local dealer this winter.- It has been kept in the climate controlled storage. - It has a Jardine RT-1 slip-on muffler and ECM is tuned for this muffler.- ProTec snake skin tank pads.- Battery is brand new.- All lights are working.- It runs and shift well smoothly.- Michelin Pilot Road 4 on rear (about 80% treads left) and Pilot Road 2 on front (about 60% treads left). - Plastics are in great condition and there are only minor scuffs and one light a few inches long scratch on the tail fairing.- There are some minor scratches on the stator metal cover with the Buell's logo.- There is no dent anywhere.- Left side of rear turn-signal is ripped off from the fender by me when I was removing its rear wheel and later fixed with plastic compound. (Please see the last photo) Since I still sometimes go ride when weather allows, the millage might go up slightly. 1) Please make $500 deposit through PayPal within 48 hours.2) Only cash in person, cashier's check (money order) and a personal check (it has to be cleared first before shipping) accepted for payment methods.3) The auction might end suddenly since this bike is also listed in the local classified ad.
Trim XB12R
$8,500
Boston, Massachusetts
Category -
Engine 821 cc
Posted Over 1 Month
-2014 Ducati Hypermotard 821 ABS (Matte Black)-$8,500 -Excellent condition (1,800 Miles)-Purchase new from Riverside Motorsports in 2015 -Ducati Safety Pack (DSP) Anti-lock Brakes & Traction Control System -Ride by wire system - three riding modes (city, touring & sport) -First service was done at dealer 600 miles in (next service due 7,500 miles) -Bike was properly broken in (kept under 5,000 RPM for the first 600 miles of use) -Kept in heated storage off-season -Aftermarket Carbon Headlight Fairing - :// /p/ducati-hypermotard-carbon-headlight-fairing ($260) -I purchased 3 year tire & wheel protection through until 3/31/2018. This policy is transferable to the new owner for a $25 fee from the insurance company. The policy covers any tire or wheel (rim) damage. I purchased this policy for $800 when I bought the bike. -Kelly Blue Book Price: s:// /motorcycles/ducati/hypermotard-821-abs/2014/?pricetype=retail (KBB Price based off of 9,015 miles vs. 1,800 miles this bike has) -About 2014 Ducati Hypermotard This bike is built around an 821cc, Testastretta 11°, L-twin cylinder, 4 valve per cylinder, Desmodromic, liquid cooled engine. The unit cranks out a maximum output of 110 hp at 9,250 rpm and 89 Nm of torque at 7,500 rpm. All this power is kept under control by a six speed transmission and you also get Ducati's Ride-by-Wire system, which allows 3 different engine mappings.The engine is housed by a tubular steel Trellis frame with 34 mm main section tubes, 25.5° rake, 104 mm trail and 30 mm offset.