Bobber Motorcycles for sale in Colorado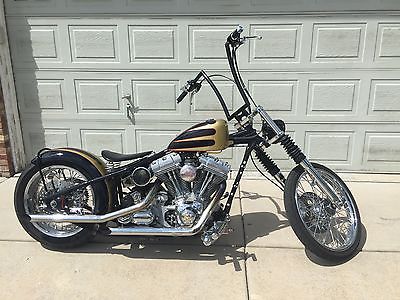 $7,200
Colorado Springs, Colorado
Category Bobber Motorcycles
Engine 1450
Posted Over 1 Month
I am selling a 2004 custom built motorcycle. It is in good running and riding condition. It starts, stops, runs and rides like it should. This bike was built in 2004 so it shows a little bit of its age. I am told this was originally put together at Demon Cycles in Florida. It started out with a new Harley Davidson drive train (Twin Cam 88, 5 speed transmission and primary) purchased from Gary Surdyke Harley in MO. Then they installed that into a Donnie Smith Signature Series custom single down tube rigid frame. This started out life as more of a drag style bike when new (I have some pix that will go with the bike). It was brought to Colorado and turned into a Bobber by the previous owner. The engine has AMM P3 high performance ignition system. The rear brakes are by Performance Machine. The front brakes are Wilwood. The front tire is 21" and the rear is a 200/55R18. The chrome spoke wheels are in good shape. There are a couple of small scratches in the paint as seen in the pix (top of rear fender/top side of primary). The paint on the tank is starting to blister a little around the flush mount gas cap (shown in pix). There is a small oil leak from the bottom of the primary that will leave 3-4 drops of oil on the ground after riding it. One of the cable clamps has come apart (easy fix). There is some rubber from my boot left on the exhaust. Otherwise it is a clean good riding bike. This would make a great bar hopper and is sure to get attention everywhere it goes. I also have a set of passenger pegs, passenger seat cushion (suction cups to rear fender) and spare mirror (drops under handlebars) that will be included. Family life has left me little time to ride, so it's up for sale. I have a clear Colorado title in hand. Shipping is the sole responsibility of the buyer. UShip is one of the more popular shipping companies out there. I have a set of ramps and can assist with loading. If you have any questions, feel free to call or email Justin @ 719-231-6727 before 8pm MST.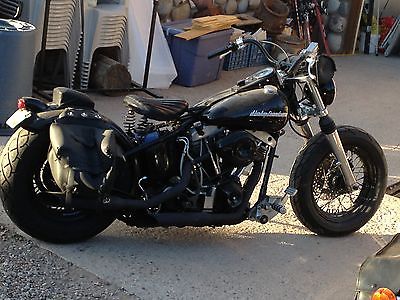 $8,000
Carbondale, Colorado
Category Bobber Motorcycles
Engine 1340
Posted Over 1 Month
Built on a -56 rigid frame with a -79 shovelhead, did sturgis 5 times from Denver area with no problems. 95% harley parts ranging from 1948 to 1997, very few new/old stock parts. it needs a new battery and a timing adjustment, backfires when giving it some throttle. i hate to see it go but never ride any more and the tax man wants my money. turns a lot of heads and rides low to the ground. over all a pretty cool old bike. good luck!
Trim FLH